Willy Wonka/Charlie & The Chocolate Factory
WILLY WONKA & THE CHOCOLATE FACTORY (PG)
Paramount (David L. Wolper & Stan Margulies)
W: Roald Dahl [based on his novel "Charlie & The Chocolate Factory"]
Mus: Walter Scharf; Leslie Bricusse & Anthony Newley
PD: Harper Goff
Gene Wilder (Willy Wonka), Peter Ostrum (Charlie Bucket), Jack Albertson (Grandpa Bucket), Julie Dawn Cole (Veruca Salt), Denise Nickerson (Violet Beauregarde), Paris Themmen (Mike Teevee), Michael Bollner (Augustus Gloop)
Surprisingly, this original film of the classic children's book is tailored more for adults than youngsters due to its frequent dark tone, moments of black comedy and occasional scenes of trippy psychedelia which say quite a lot about the era in which it was made. Still, it has the morals in the right place for youngsters, particularly when it comes to the excesses of greed, gluttony, selfishness and other such bad characteristics.
Adapted by Roald Dahl himself from his own book, a group of children all win a golden ticket inside their favourite chocolate bars to visit the secret factory of the eccentric confectioner Willy Wonka, but the spoiled brats all get their comeuppance when they eat to excess, accompanied by the Oompa Loompa songs about their poor manners and behaviour. 
The film hasn't dated badly, but the appeal has palled since Tim Burton directed a more child-friendly version in 2005 (Charlie & The Chocolate Factory). It's still reasonably memorable due to Gene Wilder's wild-eyed performance, the colourful set design and costumes, the iconic songs and a handful of juvenile performances.  
7/10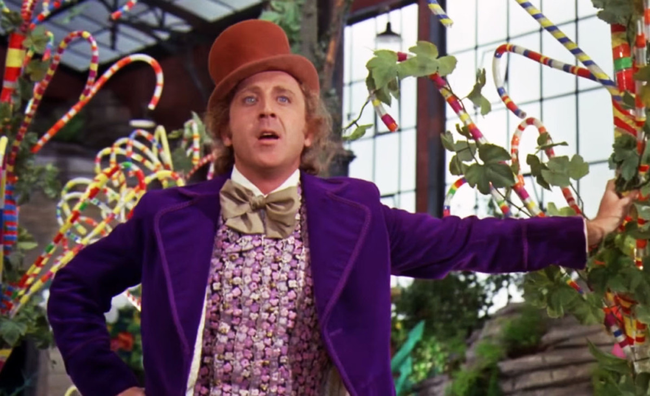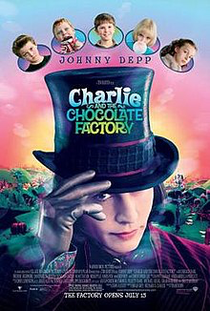 CHARLIE & THE CHOCOLATE FACTORY (PG)
Warner Bros. (Richard D. Zanuck & Brad Grey)
USA/UK/Australia 🇺🇸 🇬🇧 🇦🇺 2005
W: John August [based on the novel by Roald Dahl]
Mus: Danny Elfman
PD: Alex McDowell
Cos: Gabriella Pescucci
Johnny Depp (Willy Wonka), Freddie Highmore (Charlie Bucket), David Kelly (Grandpa Joe), Helena Bonham-Carter (Mrs. Bucket), Noah Taylor (Mr. Taylor), James Fox (Mr. Salt), Missi Pyle (Mrs. Beauregarde), Christopher Lee (Dr. Wonka), Deep Roy (Oompa-Loompa)
Americanisation of Roald Dahl's classic children's story about a humble boy who wins a golden ticket tour of the eccentric Willy Wonka's chocolate factory, where other golden ticket winners are spoiled children, punished for their selfish actions.
Johnny Depp plays Wonka as a goofy character rather than the partly-sinister embodiment that Gene Wilder brought to the role in the 1971 film 'Willy Wonka & The Chocolate Factory' and many prefer this remake to that version, but the better film is subjective to the viewer.
I actually prefer the 1971 film, but it doesn't stop this film being a good remake, with the usual Tim Burton flourishes of opulent style and gothic humour.
6/10