Tomb Raider (film series)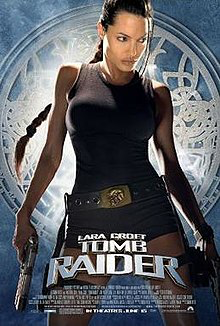 LARA CROFT: TOMB RAIDER (12)
Paramount/Mutual/Eidos (Lawrence Gordon, Lloyd Levin & Colin Wilson)
W: Patrick Massett, John Zinman & Simon West [based on the video game]
Ed: Dallas S. Puett & Glen Scantlebury 
Angelina Jolie (Lara Croft), Jon Voight (Lord Richard Croft), Noah Taylor (Bryce), Iain Glen (Manfred Powell), Daniel Craig (Alex West)
Based on a very popular and hugely enjoyable video game franchise, the film adaptation fails to capture the thrills and adventure which come with playing the game and instead takes the easy route of being an Indiana Jones clone with a female protagonist. Angelina Jolie is completely miscast as the artefact-seeking heroine and is given very little do except pout, scowl and walk around in tight fitting T-shirts. Her English accent is far from perfect, but at least it's better than Daniel Craig's laughable attempt at an American one. What's even more unconvincing is the atrocious CGI effects which are even worse than the early 2000's graphics in the computer game.
Enjoyment is heavily dependent on whether or not you think Angelina Jolie is sexy. That's practically the one chord this tune has, and it plays it for 90 odd minutes.
A sequel followed, as well as 2017 remake with Alicia Vikander as the young heroine.
5/10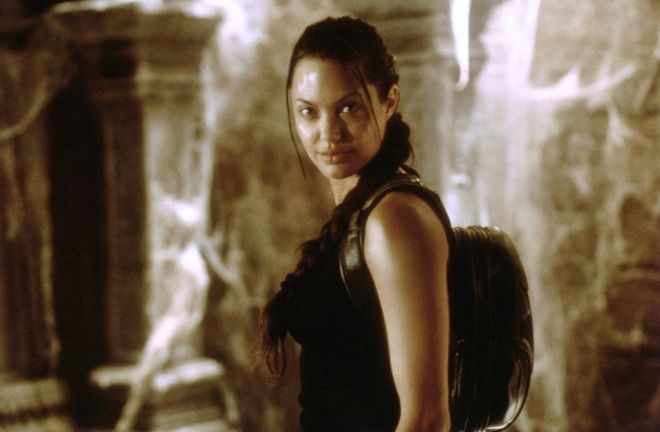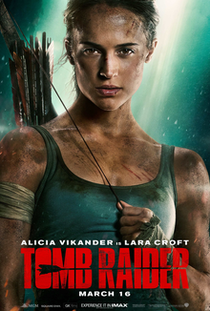 TOMB RAIDER (12)
D: Roar Uthaug
Warner Bros/MGM (Graham King)
US/UK 2018
118 mins
Action/Adventure
W: Evan Daugherty, Geneva Robertson-Dworet & Alastair Siddons [based on characters created by Crystal Dynamics]
DP: George Richmond
Ed: Stuart Baird & Michael Tronick
Mus: Tom Holkenberg
Alicia Vikander (Lara Croft), Dominic West (Lord Richard Croft), Walton Goggins (Mathias Vogel), Daniel Wu (Lu Ren), Kristin Scott-Thomas (Ana Miller), Derek Jacobi (Mr. Yaffe), Nick Frost (Max)
The general rule of thumb is that video games do not make a good transition to the big screen, and though that may be true, movies based on computer games do make a nice little earner for the studios, so from a business standpoint, it's good sense that these movies will be regularly produced.
The character of Lara Croft already made a big screen bow in 2001, with Angelina Jolie donning the outfit for some action packed adventure and excitement (see Lara Croft: Tomb Raider). The storyline in this reboot takes its inspiration from the 2004 release of the game series, casting Alicia Vikander as a young Lara for more of an origin tale.
Living a working class life following her father's disappearance many years prior, Lara reluctantly signs the inheritance papers to prevent her family mansion being sold off. Discovering a secret lair harbouring her father's more clandestine work, Lara travels to Hong Kong to further investigate his disappearance, eventually arriving at a mysterious island where a group of henchmen are searching for the sarcophagus of Himiko, a mythical queen who is fabled to hold the key to life.
Though the film is reasonably entertaining, it borrows most of its story from other, much better films, while the characters are very one-dimensional and the plot is simply by-the-numbers. Alicia Vikander does look the part as a young Lara Croft, but she's given too little to do in this, with action sequences being few and far between.
It's an Indiana Jones movie with a female protagonist, but nowhere near as good as it could or should be.
5/10