¡Three Amigos!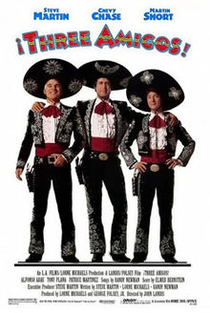 ¡THREE AMIGOS! (PG)
Orion (Lorne Michaels & George Folsey, Jr.)         
W: Steve Martin, Lorne Michaels & Randy Newman
Mus: Elmer Bernstein; Randy Newman
Steve Martin (Lucky Day), Chevy Chase (Dusty Bottoms), Martin Short (Ned Nederlander), Patrice Martinez (Carmen), Alfonso Arau (El Guapo), Joe Mantegna (Harry Flugleman)
Three cowardly cowboy song-and-dance film stars, fired by their studio for insubordination, are hired by a Mexican woman to rid their small village from attacks by a notorious bandit. They agree, believing it to be staged for entertainment purposes, but when real bullets start to fly, they realise too late that they're way out of their depth.
It's a slapstick version of The Magnificent Seven, with added songs. Enjoyment depends heavily on whether or not you like Steve Martin, Chevy Chase and Martin Short. For those who do, this will rank amongst their best work.
7/10