The Spaghetti Western Trilogy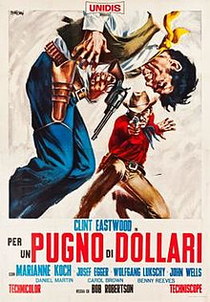 A FISTFUL OF DOLLARS (PER UN PUGNO DI DOLLARI) (15)
D: Sergio Leone
United Artists/Jolly (Arrigo Colombo & Giorgio Papi)      
Italy/Spain/West Germany 🇮🇹 🇪🇸 🇩🇪 1964
W: Sergio Leone, Duccio Tessari, Victor A. Catena & G. Schlock [based on the screenplay "Yojimbo" by Ryuzô Kikushima & Akira Kurosawa]
Mus: Ennio Morricone
Clint Eastwood (The Man With No Name), Marianne Koch (Marisol), Gian Maria Volonte (Ramon Rojo), Jose Calvo (Silvanito)
A landmark Western and first of Sergio Leone's Spaghetti Trilogy, it also follows The Magnificent Seven as an excellent example of a plot from a Kurosawa samurai movie crossing over into the western genre, this time with 1961's Yojimbo.
Clint Eastwood is The Man With No Name, a drifter who rides into a small Mexican town where two rival gangs are embroiled in a power struggle. Eastwood makes himself a mercenary for hire, first to the Mexican family, The Rojo's, who control the town's liquor, but then switches to the other side, The Baxter's, who control the town's firearms.
Eastwood is superb as the mystery man with little to no honour or morality, a man who can speak entire sentences without having any dialogue through his facial expressions alone.
Though A Fistful Of Dollars is nowhere near as good as The Good, The Bad & The Ugly, it does make a great first installment to a classic trilogy of films.
It's also worth catching the original Japanese film, Yojimbo (qv).
7/10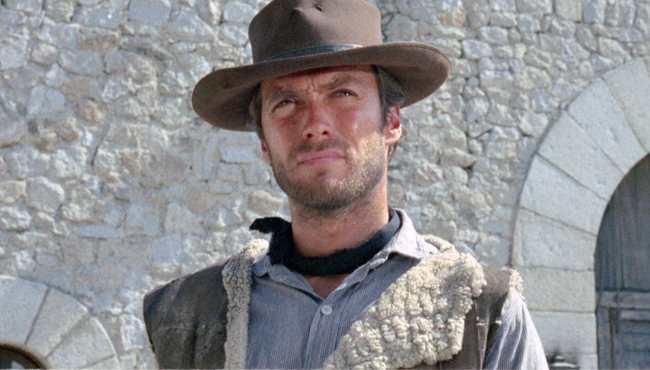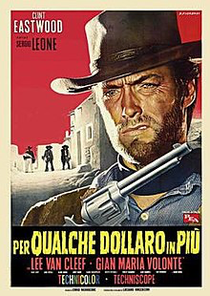 FOR A FEW DOLLARS MORE (PER QUALCHE DOLLARI IN PIÙ) (15)
PEA/Gonzales/Constantin (Alberto Grimaldi)
Italy/Spain/West Germany 🇮🇹 🇪🇸 🇩🇪 1965
W: Sergio Leone & Luciano Vincenzoni
Mus: Ennio Morricone 
Clint Eastwood (The Man With No Name), Lee Van Cleef (Col. Douglas Mortimer), Gian Maria Volonte (El Indio), Klaus Kinski (Wild)
The second film of Sergio Leone's Spaghetti Western trilogy follows on from A Fistful Of Dollars with Clint Eastwood & Lee Van Cleef's bounty hunters uniting forces in El Paso to take on Volante's psychotic bandit & his gang.
Arguably better filmed than its predecessor, though the story isn't quite as good, but the performances are dastardly & mean, complete with spurts of violence and Ennio Morricone's memorable music score.
7/10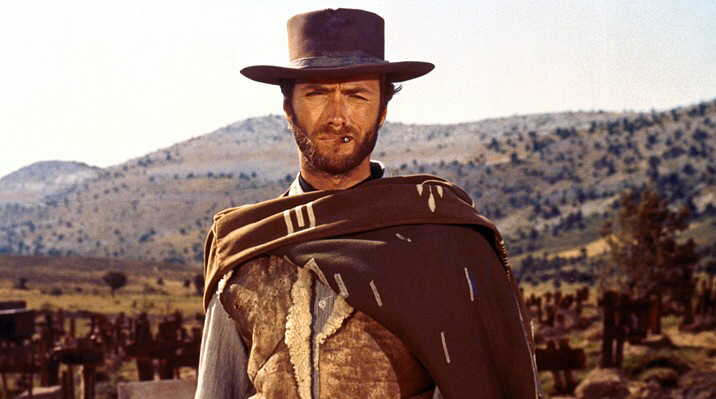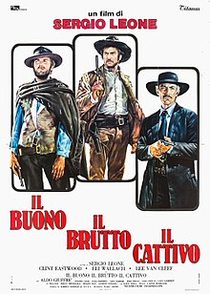 THE GOOD, THE BAD & THE UGLY (IL BUENO, IL BRUTTO, IL CATTIVO) (18)
D: Sergio Leone
W: Luciano Vincenzoni & Sergio Leone
Ed: Nino Baragli
Mus: Ennio Morricone
Clint Eastwood (The Man With No Name), Eli Wallach (Tuco Ramirez), Lee Van Cleef (Angel Eyes), Aldo Guiffre (Capt. Clinton), Mario Brega (Cpl. Wallace), Luigi Pistilli (Father Pablo Ramirez)
Sergio Leone's Spaghetti Western trilogy concludes with this seminal piece of work, arguably the greatest Western ever made.
The Good, The Bad & The Ugly are Clint Eastwood, Lee Van Cleef & Eli Wallach, respectively, although it could be argued that all three characters have each of the three traits as they double-cross and back stab each other while on the hunt for buried fortune during the American civil war.
Eli Wallach steals the movie as the despicable villain for whom you wait in anticipation to get his comeuppance, but when he finally gets it, you can't help but feel sorry for him.
While A Fistful Of Dollars & For A Few Dollars More shaped this new genre of filmmaking, Leone's third part truly immortalised it, featuring a Mexican stand off towards the end of the film which is amongst the most dramatic scenes ever put on film, for any genre.
As well as great performances, story and direction, there's also the iconic movie score - Ennio Morricone's music needs no explanation as to why it's one of the all time classic movie themes.
10/10