Stakeout/Another Stakeout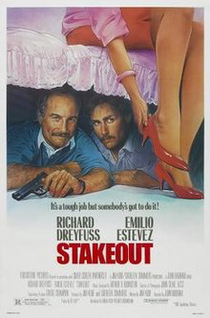 STAKEOUT (15)
Touchstone/Silver Screen Partners II (Jim Kouf & Cathleen Summers)
Ed: Tom Rolf & Michael Ripps
Mus: Arthur B. Rubinstein
Richard Dreyfuss (Det. Chris Lecce), Emilio Estevez (Det. Bill Reimers), Madeliene Stowe (Maria McGuire), Aidan Quinn (Richard 'Stick' Montgomery)
Two officers (Dreyfuss and Estevez) stakeout the home of a drug dealer and one of them falls in love with the suspects girlfriend (Stowe).
A comedy which goes here, there and everywhere, starting off with silly slapstick farce before becoming something more sitcom orientated.
The performances aren't bad, though it really needed a better double act than Richard Dreyfuss and Emilio Estevez, who don't really have much on-screen pizzazz together. It certainly didn't deserve a sequel (Another Stakeout, released in 1993).
6/10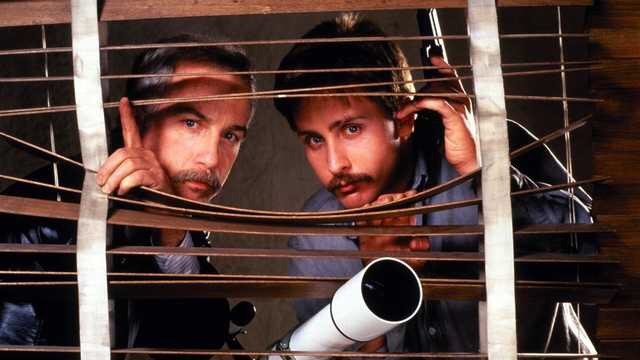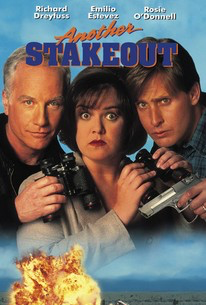 ANOTHER STAKEOUT (15)
Buena Vista/Touchstone (Jim Kouf, Cathleen Summers & Lynn Bigelow)
Ed: Frank Morriss & Kevin Stitt
Mus: Arthur P. Rubinstein
Richard Dreyfuss (Det. Chris Lecce), Emilio Estevez (Det. Bill Reimers), Rosie O'Donnell (Gina Garrett), Dennis Farina (Brian O'Hara), Marcia Stressman (Pam O'Hara), Cathy Moriarty (Luella Delano)          
Rather pointless sequel to 1987's Stakeout which follows a very similar formula, minus Madeleine Stowe, who only appears in an uncredited cameo. 
Richard Dreyfuss & Emilio Estevez reprise their roles as two cops on a stakeout and this time they're joined by the incredibly unfunny Rosie O'Donnell as a feisty lawyer who tries to run the operation.  The trio have to pretend they're a family to keep up appearances and throw their suspects off the scent.
The jokes are quite lame and it's all rather unnecessary.  
4/10