Seven Samurai / Magnificent Seven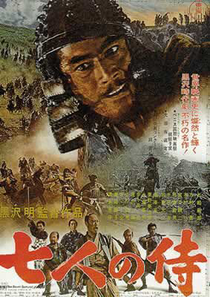 SEVEN SAMURAI (SHICHININ NO SAMURAI) (PG)
D: Akira Kurosawa
W: Shinobu Hashimoto, Hideo Oguni & Akira Kurosawa
PD: Takashi Matsuyama
Cos: Kohei Ezaki
Takashi Shimura (Kambei Shimada), Toshiro Mifune(Kikuchiyo), Yoshio Inaba (Gorōbei Katayama), Seiji Miyaguchi (Kyūzo), Minoru Chiaki (Heihachi Hayashida), Daisuke Kato (Shichirōji), Isao Kimura (Katsushiro Okamoto)
No oriental filmmaker has been more influential to Hollywood than Japanese auteur Akira Kurosawa and The Seven Samurai is without doubt his finest work and arguably the best film export ever to come from the shores of Japan. Kurosawa's follow-up film (The Hidden Fortress) provided much inspiration for Star Wars, whilst this film was remade as the western, The Magnificent Seven (and also spoofed in ¡Three Amigos!).
The story tells of a poor village who hire the seven warriors to protect them and their crops from a mob of bandits who frequently ransack their land, ending in an epic battle between the bandits and the noble samurai.
It may not sound anything special and the running time may seem rather drawn out, but this could possibly be credited as the first ever action movie and it's still as good as it ever was over 60 years later.
All the performances are fantastic, but the scene-stealing turn from Toshiro Mifune as a samurai imposter is easily the most memorable.
A foreign language classic that deserves to be on everybody's 'must watch list'.
10/10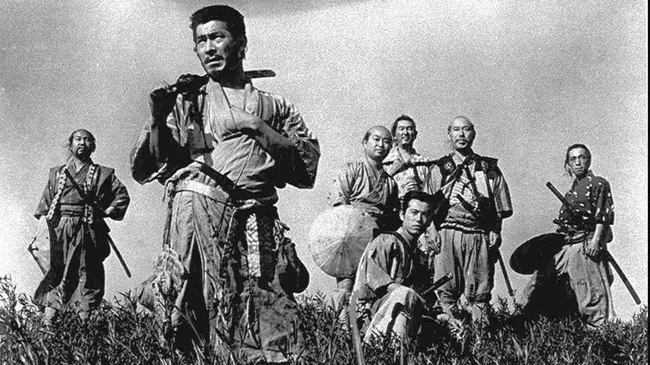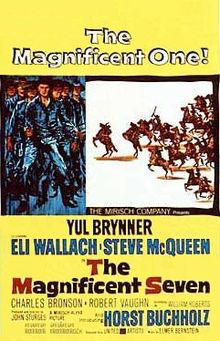 THE MAGNIFICENT SEVEN (PG)
D: John Sturges
United Artists/Mirisch (John Sturges)
W: William Roberts [based on the screenplay "The Seven Samurai" by Akira Kurosawa, Shinobu Hashimoto & Hideo Oguni]
Mus: Elmer Bernstein
Yul Brynner (Chris), Steve McQueen (Vin), Robert Vaughn (Lee), James Coburn (Britt), Charles Bronson (O'Reilly), Horst Buchholz (Chico), Brad Dexter (Harry Luck), Eli Wallach (Calvera), Vladimir Sokoloff (Old Man), Rosenda Monteros (Petra)
The first thing that usually comes to mind when you think of the film The Magnificent Seven is usually Elmer Bernstein's stirring music theme, or perhaps one of the seven main performances, you'd be forgiven for not realising it was a remake of Akira Kurosawa's The Seven Samurai, simply because it's adapted for a different genre - a Western.
Yul Brynner, Steve McQueen, Robert Vaughn, James Coburn, Charles Bronson, Horst Buchholz & Brad Dexter are the seven vigilante gunmen, hired by a poor Mexican village for protection against a group of bandits (a plot which was also parodied in 1986's Three Amigos!).
Like in the original film, the background of all seven characters is explored before the inevitable showdown and all the cast members deliver some of the best performances of their careers, particularly Charles Bronson.
In all honesty, the original is by far the better film, purely because it did so much for Japanese cinema and the career of its director Akira Kurosawa, but this American remake (at a time when remakes weren't used a moneymaking enterprise) cannot be denied as one of the best remakes of all time, brilliantly locating the action from 16th Century Japan to the Wild West. Not quite the greatest western of all time, but certainly amongst the most enjoyable.
9/10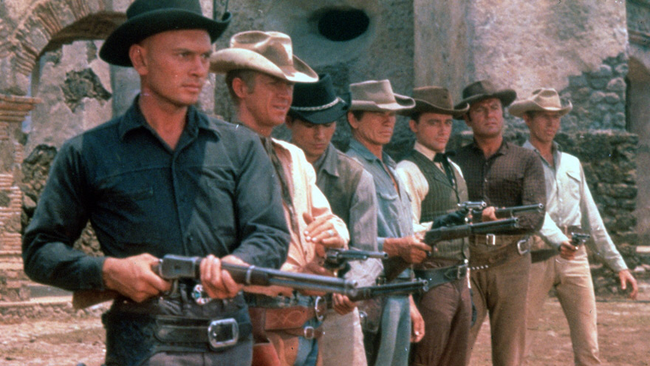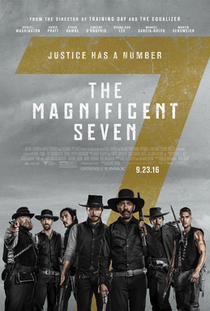 THE MAGNIFICENT SEVEN (12)
D: Antoine Fuqua
MGM/Columbia/Village Roadshow (Roger Birnbaum & Todd Black)
US 2016
133 mins
Western 
W: Nic Pizzolato & Richard Wenk [based on the screenplays "Seven Samurai" by Akira Kurosawa, Shinobu Hashimoto & Hideo Oguni and "The Magnificent Seven" by William Roberts] 
DP: Mauro Fiore
Ed: John Refoua
Mus: James Horner & Simon Franglen
Denzel Washington (Sam Chisholm), Chris Pratt (Joshua Faraday), Ethan Hawke (Goodnight Robicheaux), Vincent d'Onofrio (Jack Horne), Byung Hun-Lee (Billy Rocks), Haley Bennett (Emma Cullen), Peter Sarsgaard (Bartholomew Bogue), Luke Grimes (Teddy Q)
While not as terrible as the majority of Hollywood remakes which have been churned out over the past decade, this 2016 version of the classic 1960 western (& 1954 samurai original) fails to justify its existence. 
The characters may have different names, but the plot doesn't stray too far from the original films path, even chucking in a scene completely stolen from Django Unchained to make Denzel Washington's character a little bit cooler.
The whole point of the 1960 version was to switch genres for an American audience, but this was put into production for monetary gain only, bringing with it a 21st century cast which includes multiple races. Unfortunately, ticking the boxes of political correctness doesn't capture the magic from the original films, and the overall result is quite boring and pointless, neglecting the character-driven element to set up some rather mundane and unconvincing action set pieces.
5/10