The Remains of the Day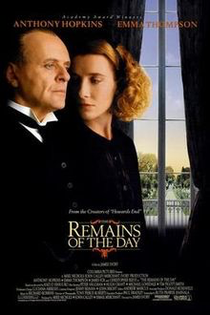 THE REMAINS OF THE DAY (U)
Columbia/Merchant Ivory (Ismail Merchant, Mike Nichols & John Calley)
W: Ruth Prawer Jhabvala [based on the novel by Kasuo Ishiguro]
PD: Luciana Arrighi
Cos: Jenny Beavan & John Bright
Anthony Hopkins (Stevens), Emma Thompson (Miss Kenton), James Fox (Lord Darlington), Christopher Reeve (Lewis), Peter Vaughan (Father), Hugh Grant (Cardinal)
Anthony Hopkins, Emma Thompson and the Merchant-Ivory production crew reunite a year after 1992's Howard's End for this WWII set period drama.
A butler, whose entire life has been deducted to servitude, discovers his loyalty to his master is misplaced when a new, unorthodox head maid is hired and deep political secrets are unearthed.
Merchant-Ivory films will never be fully appreciated by a commercial cinema audience, but The Remains Of The Day is amongst the easiest to digest out of their works. The excellent performances and period detail are highly notable.
8/10