The Red Turtle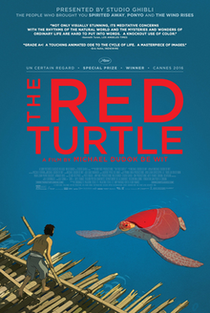 THE RED TURTLE (LA TORTUE ROUGE; TATURO: ARU SHIMA NO MONOGATARI) (PG)
D: Michael Dudok de Wit
Studio Ghibli/Wild Bunch/Why Not (Toshio Suzuki, Isao Takahata, Vincent Maraval, Pascal Caucheteux, Grégoire Sorlat & Léon Perahia)
Japan/France/Belgium 2016
80 mins
Animated
W: Michael Dudok de Wit & Pascale Ferran
Mus: Laurent Perez Del Mar
voices of: Emmanuel Garijo (The Father), Tom Hudson (The Son)

Michael Dudok de Wit won an Oscar for his 2000 animated short "Father & Daughter", and when Studio Ghibli asked for the distribution rights for that film, they asked the animator if he would like to collaborate on a feature with them, and so The Red Turtle was born.
Using a minimalistic approach with no dialogue, allowing pictures to tell the story and colours to set the mood, The Red Turtle is about a man shipwrecked on a desert island, where his attempts to escape are constantly thwarted by a giant red turtle, and his life is forever changed when he discovers the animal.
The artful style of the film is in line with Studio Ghibli's back catalogue to make for a mature, heartfelt animated movie for older audiences, but it's unlikely to appeal to fans of Disney. Nevertheless, it's a moving experience.
8/10