The Reader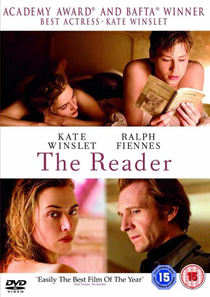 THE READER (15)
D: Stephen Daldry
The Weinstein Company/Mirage (Anthony Minghella, Sydney Pollack, Donna Gigliotti & Redmond Morris)
W: David Hare [based on the novel by Bernhard Schlink]
DP: Chris Menges & Roger Deakins
Kate Winslet (Hanna Schmitz), Ralph Fiennes (Michael Berg - Older), David Kross (Michael Berg - Younger), Lena Olin (Rose Mather), Bruno Ganz (Prof. Rohl)
What begins as a German version of "Summer Of '42" abruptly changes to a courtroom drama akin to the Nuremberg Trials.
The Reader is by no means an easy watch, its controversial story is both shocking and touching, with the central character being an S.S. Officer at Auschwitz, an unsympathetic woman who you begin to feel compassion for as the film progresses.
Kate Winslet and David Kross are excellent in their respective roles, but Ralph Fiennes is wasted in a very brief role (obviously cast because of his perfect German accent), also Kate's aging makeup looks a little ropey as the years go by. However, I'd still recommend the movie as one of the best of 2008. Excellently scripted, directed, photographed and produced.
8/10