The Raid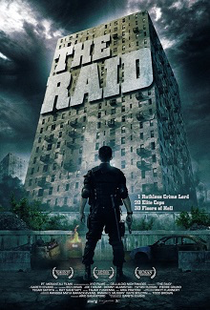 THE RAID (18)
Sony Pictures Classics/XYZ/PT Meranteau (Ario Sagantoro)
DP: Matt Flannery & Dimas Imam Subhono
Mus: Fajar Yuskemal & Mike Shinoda
Iko Uwais (Rama), Joe Taslim (Jaka), Donny Alamsyah (Andi), Yayan Ruhian (Mad Dog), Pierre Gruno (Wahyu), Tegar Setrya (Bowo)
An elite S.W.A.T. team become trapped in a housing complex run by a ruthless criminal and his gang, finding themselves fighting for their lives to escape.
Well received by both critics and audiences, The Raid is a good slice of Western-inspired Oriental cinema with more than a nod or two to Die Hard (qv) and other similar action-thrillers.
A variation on the same plot was used in the 2012 film Dredd (qv), though the martial arts choreography on display here is a step above the usual.
6/10