Rififi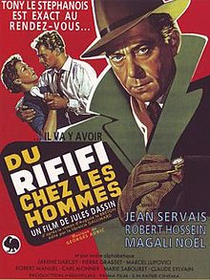 RIFIFI (DU RIFIFI CHEZ LA HOMMES) (15)
D: Jules Dassin
Indus/Pathé/Prima (Rene G. Vuattoux)
W: Jules Dassin, Rene Wheeler & Auguste LeBreton [based on the novel by Auguste LeBreton]
Jean Servais (Tony LeStephanois), Carl Mohner (Jo Le Suedois), Robert Manuel (Mario), Jules Dassin (Cesar), Magali Noel (Viviane)
A much-imitated crime caper which provided clear inspiration for many other filmmakers (especially Quentin Tarantino), as well as being instrumental in the dawn of French New Wave film.
A group of criminals plan an elaborate heist on a jewellery store, and once they make their getaway, they begin to stab each other in the back so there is only one beneficiary to the robbery.
The heist scene is a masterclass of tension, using a lack of sound to make the audience feel complicit in the theft. 
The pacing of the film might not be to everyone's satisfaction, nor will the abrupt ending, but this is still an excellent piece of 1950's French cinema and it's clear to see why other filmmakers cherish it so dearly.
8/10