Revolutionary Road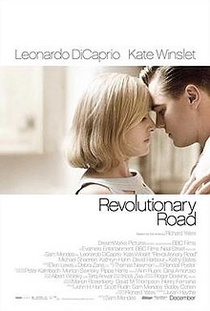 REVOLUTIONARY ROAD (15)
D: Sam Mendes
Dreamworks/Paramount Vantage/Neal Street/BBC (Scott Rudin, Bobby Cohen, Sam Mendes & John Hart)
USA/UK 2008
119 mins
Drama
W: Justin Haythe [based on the novel by Richard Yates]
DP: Roger Deakins
Ed: Tariq Anwar
Mus: Thomas Newman
PD: Kristi Zea
Cos: Albert Wolsky
Leonardo DiCaprio (Frank Wheeler), Kate Winslet (April Wheeler), Michael Shannon (John Givings, Jr.), Kathryn Hahn (Milly Campbell), Kathy Bates (Helen Givings)
Leonardo DiCaprio & Kate Winslet share the screen again for the first time since 1997's Titanic, though it was probably a foolish marketing strategy to promote this film as a follow up, as those who believed it would be another fluffy romance would surely have been disappointed with the ugly side of marriage depicted here.
The two leads star as Frank & Alice, a husband and wife in the 'seven year itch' period of matrimony, both unhappy with their careers which they juggle with raising two young children.
Set in 1950's New England, its very much in stark contrast to the idyllic picket fence family life which you'd synonymously visualise with the backdrop, while the performances from the entire ensemble convince throughout.
It's a shame that the reception to the film was only lukewarm during its cinema run, and it can only really be blamed on a poor marketing campaign.
7/10