Revolution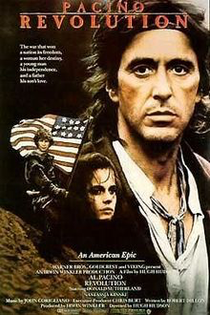 REVOLUTION (15)
Warner Bros/Goldcrest/Viking (Irwin Winkler)
Al Pacino (Tom Dobb), Donald Sutherland (Sgt. Maj. Peasy), Nastassja Kinski (Daisy McConnahay), Dexter Fletcher (Ned Dobb), Joan Plowright (Mrs. McConnahay), Dave King (Mr. McConnahay), Steven Berkoff (Sgt. Jones)
Stilted, boring American Revolutionary War flagwaver featuring a rare poor performance from Al Pacino (using a baffling accent which wavers between Boston Irish and West Country English).
There's no real narrative thread, instead it just stumbles incoherently from set piece to set piece, hampered by some unintentionally hilarious dialogue.
Amongst the worst films of 1985 and a big enough flop to cause a four-year hiatus away from movies for lead star Al Pacino.
3/10