Reversal of Fortune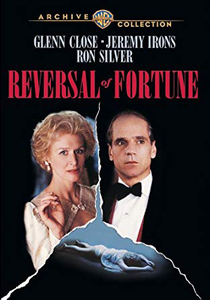 REVERSAL OF FORTUNE (15)
Warner Bros (Oliver Stone & Edward R. Pressman)
W: Nicholas Kazan [based on the book by Alan Derschowitz]
Jeremy Irons (Claus Von Bülow), Glenn Close (Sunny Von Bülow), Ron Silver (Professor Alan Derschowitz), Annabella Sciorra (Sarah), Uta Hagen (Maria)
Did Claus Von Bülow get away with murder? Though the case has been well-documented in the Alan Derschowitz book upon which this film is based, director Barbet Schroeder leaves the ending mischieviously ambiguous.
Jeremy Irons is deliciously unpleasant with his performance of the European aristocrat, convicted of the attempted murder of his wife, who never recovered from a coma. He hires Jewish-American lawyer, Deschowitz, to handle his appeal which provokes a moral dilemma for the professor. Can he in good conscience represent a man when he's certain of his guilt? Or does everyone deserve a fair, unbiased courtroom trial?
The debate is left for another day. This film focuses on the facts, and does a magnificent job in its delivery.
7/10