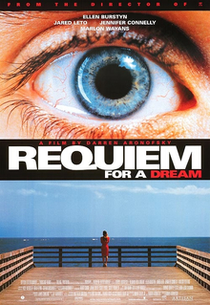 REQUIEM FOR A DREAM (18)
D: Darren Aronofsky 
Artisan/Thousand Words (Eric Watson & Palmer West)
W: Hubert Selby, Jr. [based on his novel]
Ed: Jay Rabinowitz
Mus: Clint Mansell
Ellen Burstyn (Sara Goldfarb), Jared Leto (Harry Goldfarb), Jennifer Connelly (Marion Silver), Marlon Wayans (Tyrone C. Love), Christopher McDonald (Tappy Tippons), Keith David (Little John), Louise Lasser (Ada)
Director Darren Aronofsky pulls off an extraordinary feat with Requiem For A Dream, dressing a drama about drug addiction with the atmosphere of a horror movie.
The story follows a Brooklyn mother, a victim of her ineffectual son's looting to feed his own drugs habit, while she battles her own addictions to slimming drugs and her dreams of fame on a daytime TV quiz show. 
The style and content of the film doesn't make for particularly easy or pleasant viewing, especially with the split-screen editing in many scenes, but this is a fine work of art and craft which is impossible to ignore and will stay with you long after viewing.
9/10