Repo Man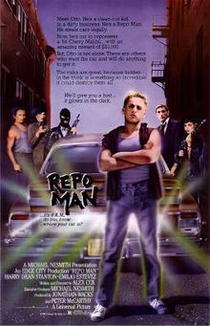 REPO MAN(15)
D: Alex Cox
Universal/Edge City (Peter McCarthy, Michael Nesmith, Gerald T. Olson & Jonathan Wacks)
US 1984
92 mins
Science Fiction/Comedy
W: Alex Cox
DP: Robby Müller
Ed: Dennis Dolan
Mus: Tito Larriva & Steven Hufsteter
Emilio Estevez (Otto Maddox), Harry Dean Stanton (Bud), Tracey Walter (Miller), Olivia Barash (Leila), Sy Richardson (Lite)
Emilio Estevez stars in this cult classic as a street punk who reluctantly takes a job as a repo man and becomes involved in a government conspiracy involving UFO's and a mysterious 1960's Chevy Malibu containing a dangerous cargo.
Though the film has amassed a huge cult following since its 1984 release, the plot and premise are things which you would only find in a 1980's movie and certain elements have dated quite badly. 
Enjoyable enough as a one-off watch, but it really hasn't stood the test of time.
6/10