Red Rock West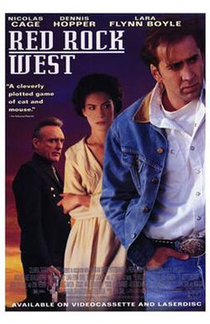 RED ROCK WEST (18)
Rank/Red Rock (Sigurjon Sighvatsson & Steve Golin)
Nicolas Cage (Michael Williams), Lara Flynn Boyle (Suzanne Brown/Ann McCord), Dennis Hopper (Lyle), J.T. Walsh (Wayne Brown/Kevin McCord)
The plot of this modern noir may feel familiar and old hat, but the originality breathed into it by solid direction, an intelligent screenplay and good performances make it feel incredibly unique and fresh.
Nicolas Cage (in one of his best performances) plays a drifter who wanders into a small town and is mistaken for a hitman hired by both a shady businessman and his gold-digging wife to kill the other.
Things get even more interesting when the real hitman (played by a scene-stealing Dennis Hopper) enters the fold.
This darkly comic thriller sailed under the radar of bigger commercial hits released the same year, but is a much more worthy watch than most.
Fans of Coen Brothers films and black comedies would most likely enjoy it more than others.
7/10