Rebel Without a Cause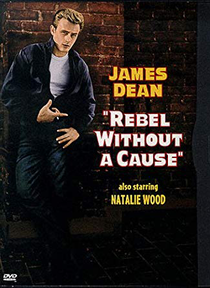 REBEL WITHOUT A CAUSE (PG)
D: Nicholas Ray
Warner Bros. (David Weisbart)
W: Stewart Stern [based on the story "The Blind Run" by Dr. Robert M. Lindner]
James Dean (Jim Stark), Natalie Wood (Judy), Sal Mineo (Plato), Jim Backus (Mr. Stark), Ann Doran (Mrs. Stark), Corey Allen (Buzz)
The movie which introduced the world to screen idol and "America's first teenager" James Dean, Rebel Without A Cause was amongst the first Hollywood films to deal with the subject of teenage angst, along with the suggestion that juvenile delinquency isn't born and bred in the slums, but can effect almost everyone between the ages of childhood and adulthood.
The story, though rather simple, has often been imitated since- unsettled youth in a new town strikes out against authority and, despite coming from a good family, gets involved with the wrong sorts and tragedy inevitably occurs. The template has been used in countless teen-orientated films since, even 1984's contemporary musical Footloose features a huge reference to one of the most iconic scenes.
The trio of James Dean, Natalie Wood & Sal Mineo were all perfect casting choices for the troubled teenagers and it's almost perfectly filmed by director Nicholas Ray. Certain parts may feel a little dated, but it's a classic slice of iconic cinema history.
9/10