Rebecca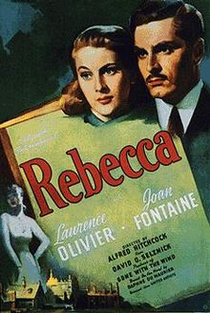 REBECCA (PG)
D: Alfred Hitchcock
Selznick (David O. Selznick)
W: Robert E. Sherwood & Joan Harrison [based on the novel by Daphne du Maurier]             
DP: George Barnes
Ed: James E. Newcom & Hal C. Kern
Mus: Franz Waxman 
Laurence Olivier (Maxim de Winter), Joan Fontaine (Mrs. de Winter), George Sanders (Jack Favell), Judith Anderson (Mrs. Danvers), Nigel Bruce (Maj. Giles Lacy), C. Aubrey Smith (Col. Julyan), Reginald Denny (Frank Crawley), Gladys Cooper (Beatrice Lacy)
The naïve, young second wife of a rich landowner is haunted by the image of his beautiful first wife shortly after they get married.
Rebecca was Alfred Hitchcock's first American movie was his only film to win a Best Picture Oscar, yet it's still one of the greatest crimes that he never won a Best Director Oscar in his own right.
Rebecca is a great example of the legendary director's work. It's a perfectly blended romance, thriller & mystery with excellent performances from both Laurence Olivier & Joan Fontaine, plus excellent supporting performances from the rest of the ensemble.
Based on a novel by Daphne du Maurier, this movie has twists which I really didn't see coming and is beautifully captured with atmospheric black & white photography.
10/10