Rear Window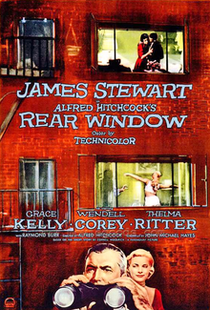 REAR WINDOW (PG)
D: Alfred Hitchcock
Paramount (Alfred Hitchcock)
W: John Michael Hayes [based on the story "It Had To Be Murder" by Cornell Woolrich]
DP: Robert Burks
PD: Hal Pereira & Joseph MacMillan Johnson
James Stewart (L. B. "Jeff" Jeffries), Grace Kelly (Lisa Carol Fremont), Wendell Corey (Detective Thomas Doyle), Thelma Ritter (Stella), Raymond Burr (Lars Thorwald), Judith Evelyn (Miss Lonelyhearts)
Another of Alfred Hitchcock's very best. 
James Stewart stars as a wheelchair-bound photographer who becomes increasingly suspicious of the neighbour who lives opposite his bedroom window. He believes he witnesses murder, but nobody else will believe him.
Rear Window is another perfect example of why Alfred Hitchcock was dubbed the Master of Suspense. This thriller is near faultless, with a great central performance from James Stewart and brilliant support from everyone else, especially Raymond Burr, chillingly cold as the neighbour.
Often imitated, but never bettered.
10/10