Re-Animator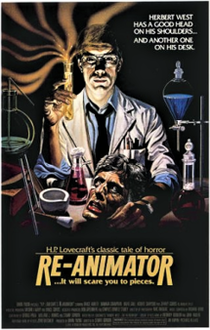 RE-ANIMATOR (18)
Empire International (Brian Yuzna)
W: Dennis Paoli, William J. Norris & Stuart Gordon [based on the story "Herbert West - Re-animator" by H. P. Lovecraft]
DP: Mac Ahlberg & Stephen Sealy
Jeffrey Combs (Herbert West), Bruce Abbott (Dan Cain), Barbara Crampton (Megan Halsey), David Gale (Dr. Carl Hill)
Crazy scientist Herbert West brings the dead back to life and they become violent.
Perhaps this tongue-in-cheek schlock owes a huge debt to Frankenstein with its story, but it's a huge amount of tacky fun, especially to those who enjoy the horror output of the 1980's. It won't really appeal to anyone outside the intended audience.
A series of sequels materialised, but they were more disgusting than they were enjoyable.
6/10