Rashomon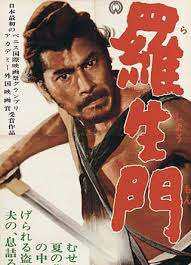 RASHOMON (15)
D: Akira Kurosawa
W: Shinobu Hashimoto & Akira Kurosawa [based on the novel by Ryunosuke Akutagawa]
PD: Matsuyama H. Motsumoto
Toshiro Mifune (Tajômaru), Machiko Kyo (Masago), Masayuki Mori (Takehiro), Takeshi Shimura (Firewood Dealer), Minoru Chiaki (Priest), Kichijiro Ueda (Commoner)
 Rashomon is the film which introduced western audiences to Japanese filmmaker Akira Kurosawa's work and still remains amongst his greatest films.
In the medieval ruins of a temple, a group of strangers each tell the story of a heinous crime that they witnessed- a rape and a murder committed by a notorious bandit, but each of the men have a differing point of view.
The film is full of rich cinematography, amazing production design and uses editing processes years ahead of its time (screen wipes, etc). The lead performance of Toshiro Mifune is completely magnetic and it's easy to see why he was cast frequently in Kurosawa's subsequent work. 
8/10