Ransom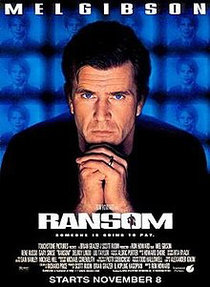 RANSOM (15)
Touchstone (Brian Grazer, Scott Rudin & B. Kipling Hagopian)
W: Richard Price [based on a screenplay by Cyril Hume & Richard Maibaum]
Ed: Dan Hanley & Michael Hill
Mel Gibson (Tom Mullen), Rene Russo (Kate Mullen), Gary Sinise (Det. Jimmy Shaker), Delroy Lindo (Agent Lonnie Hawkins), Lili Taylor (Maris Conner), Liev Schreiber (Clark Barnes), Brawley Nolte (Sean Mullen)
Remake of a 1955 thriller with a good dose of Hollywood formula added in.
Mel Gibson gives a very strong performance as a millionaire tycoon who turns the tables on his son's kidnappers by offering the ransom money as a reward for those that capture the criminals.
For two-thirds of the film, the suspense is tight and the performances believable. However, the unconvincing final third, where the plot descends into formulaic nonsense make for a clichéd ending of car chases and shootouts. Enjoyable for the most part, but ultimately flawed.
6/10