Rango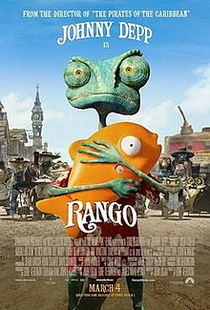 RANGO (PG)
Paramount/Nickelodeon (Gore Verbinski, Graham King & John B. Carls)
W: John Logan, Gore Verbinski & James Ward Byrkit
voices of: Johnny Depp (Rango), Isla Fisher (Beans), Abigail Breslin (Priscilla), Ned Beatty (Tortoise John), Alfred Molina (Roadkill), Bill Nighy (Rattlesnake John), Stephen Root (Doc), Harry Dean Stanton (Balthazar), Ray Winstone (Bad Bill)
Rango seemed to be more appreciated by the critics than it was cinema audiences which is a pity, since it's very enjoyable, the CGI animation is excellent and the story gives a unique twist on the western genre. Its only shortfall, is that it's an animated film which doesn't target children as its principal audience.
Johnny Depp voices the character of Rango, a pet chameleon who winds up in a small desert town called Dirt, where he finds himself becoming sheriff.
Clearly a homage to Western films of the 1950's and 1960's with a nod to a few classic film noirs.
Though it might not be aimed at kids, this is one for the big kid in all of us.
6/10