Rambo (film series)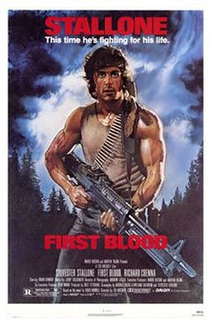 FIRST BLOOD (18)
W: Michael Kozell, William Sackheim & Sylvester Stallone [based on the novel by David Morell]
Sylvester Stallone (John Rambo), Brian Dennehy (Sheriff Will Teasle), Richard Crenna (Col. Sam Trautman), David Caruso (Mitch)
Based on a provocative, tough and savage novel by David Morell which studies the complexities of post traumatic stress disorder, this becomes nothing more than a popcorn movie in the hands of actor/co-writer Sylvester Stallone & director Ted Kotcheff. This doesn't necessarily mean it's a bad film, it's still reasonably thrilling and very entertaining.
Stallone plays a drifter who visits a small town to look up a war buddy, but finds himself arrested simply for minding his own business. Police brutality snaps him and he escapes custody to wage a one-man war on the sheriff and his men.
Though the film only shaves the periphery of the subject it's really dealing with, Stallone gives one of his better screen performances as a man who has reached his breaking point, although any power that his performance could convey is obliterated by the cheesy cameo of Richard Crenna as his old General, whose performance is nothing short of laughable. Two cash-grab sequels followed, as well as an attempted reboot of the franchise in 2008, but all these films did was weaken the point of the original film in favour of testosterone-filled, rock-em-sock-em nonsense.
6/10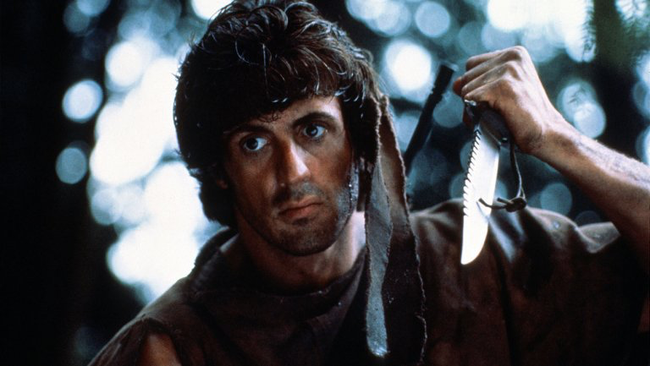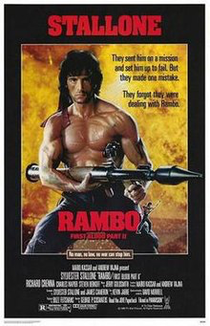 RAMBO: FIRST BLOOD PART II (18)
Anabasis Investments (Buzz Feitshans)
W: Sylvester Stallone & James Cameron
Ed: Mark Goldblatt & Mark Helfrich
Sylvester Stallone (John Rambo), Richard Crenna (Sam Troutman) Charles Napier (Murdock), Julia Nickson (Co-Bao), Steven Berkoff (Podovsky)
Mindless rock-'em sock-'em sequel to First Blood, though this story has so little to do with the original story that it wouldn't really be fair to tie it up to it, there's no real plot or character development, it's just an excuse to blow shit up.
Sylvester Stallone returns as mentally-scarred Vietnam vet John Rambo, released from doing "hard-time" by his colonel friend, who has a new mission for him. He must return to the Vietnamese jungle where he was a POW to capture photographs of those who are still prisoner, but since he doesn't have a clue how a camera works he just starts shooting people instead and becomes the victim of a set-up by his own army. Not to worry though, as he defeats the bad guys merely by pretending to be asleep.
Despite being a completely brainless action flick, the film did remarkably well at the box office in 1985. A year when Coca-Cola and McDonald's were also incredibly popular, but this still doesn't make for a good diet.
The biggest surprise is that James Cameron co-wrote this drivel.
3/10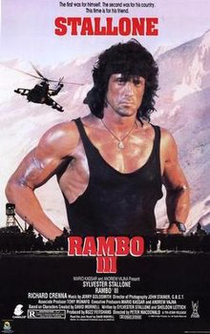 RAMBO III (18)
D: Peter MacDonald
Tristar/Carolco (Buzz Feitshans)
US 1988
101 mins
Action
W: Sylvester Stallone & Sheldon Lettich
DP: John Stanier
Ed: James Symons, Andrew London, O. Nicholas Brown & Edward Warschilka
Mus: Jerry Goldsmith
Sylvester Stallone (John Rambo), Richard Crenna (Col. Sam Trautman), Kurtwood Smith (Robert Griggs), Marc de Jonge (Col. Alexei Zaysen)
At the time of its completion, Rambo III was the most expensive film production of all time. It's just a shame that throwing money at a problem doesn't make the screenplay or acting any better.
Following the stencil of the second film rather than the first, this is more rock-em-sock-em action gibberish, throwing Stallone's titular character into conflict in Afghanistan, where he has to rescue a friend from Soviet bad guys by means of violence.
Explosions galore is on the bill of fare here, that's all there is to see.
The biggest regret with the Rambo sequels is that the first movie was actually good. This is just mindless nonsense and all that the money paid for was a terrible movie.
2/10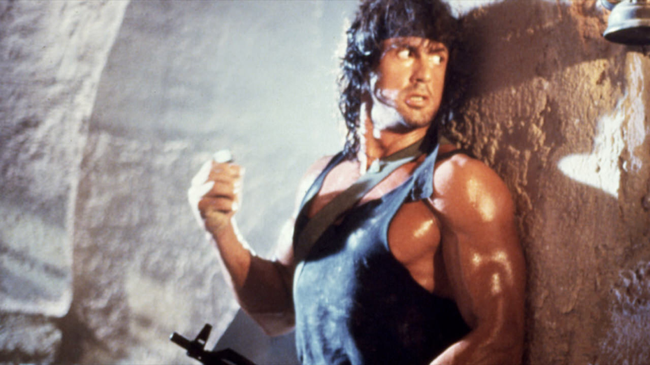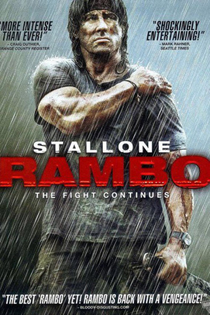 RAMBO (aka RAMBO IV; JOHN RAMBO) (18)
D: Sylvester Stallone
Lionsgate/TWC/Millennium/Nu Image (Avi Lerner, Kevin King Templeton & John Thompson)
US 2008
91 mins
Action
W: Sylvester Stallone & Art Monterastelli
DP: Glen MacPherson
Ed: Sean Albertson
Mus: Brian Tyler
Sylvester Stallone (John Rambo), Julie Benz (Sarah Miller), Paul Schulze (Michael Burnett), Matthew Marsden (School Boy), Graham McTavish (Lewis), Reynaldo Gallegos (Diaz), Tim Kang (En-Joo)
Better than the other sequels, but still not a shade on the original movie (First Blood), John Rambo is back... 20 years after his last big screen outing. The rights to the character had been bouncing about Hollywood for a while, and it wasn't until the success of 2006's Rocky Balboa (qv) that The Weinstein Company decided to revive the films with Stallone once again back in the title role.
The plot isn't too dissimilar to the other sequels, although set in Myanmar where Rambo ferries a group of humanitarians up a hostile river to they can get medicine to needy, but when they are kidnapped by a terrorist regime, Rambo joins a group of soldiers on a mission to save them.  In fairness, there was no reason to attach this to the other Rambo films. It feels as though it was written as a standalone film but producers had little faith in the project and tagged it onto the franchise, tailoring it as needs must.
Gung Ho Action it still is, but it's not as brainless as the other sequels. Stallone is definitely getting too old for this shit though.
4/10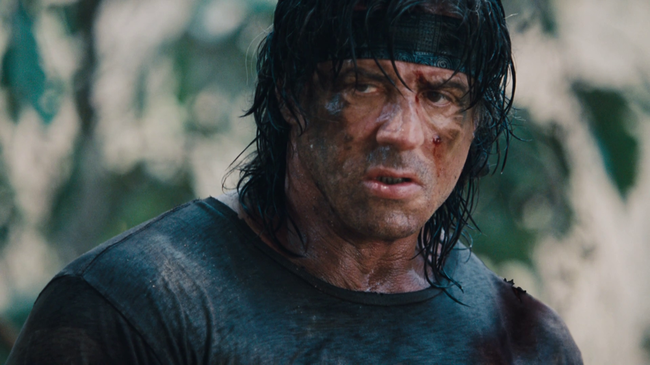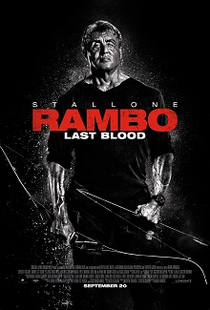 RAMBO: LAST BLOOD (18)
D: Adrian Grunberg
Lionsgate/Millennium/Balboa (Avi Lerner, Kevin King Templeton, Yariv Lerner & Les Weldon)
US 2019
101 mins (US version: 89 mins)
Action/Thriller
W: Sylvester Stallone, Matthew Cirulnick & Dan Gordon [based on characters created by David Morrell]
DP: Brendan Galvin
Ed: Todd E. Miller & Carsten Kurpanek
Mus: Brian Tyler
Sylvester Stallone (John Rambo), Paz Vega (Carmen Delgado), Sergio Peris-Mencheta (Hugo Martinez), Adriana Barraza (Maria Beltran), Oscar Jaenada (Victor Martinez), Fenessa Pinella (Gizelle)
The fifth & final(?) Rambo film has very little to do with the preceding four movies and takes more inspiration from the Taken trilogy of films.
Sylvester Stallone reprises his role of troubled Vietnam veteran John Rambo, living a relatively peaceful life on an Arizona ranch. However, his tranquility comes to an abrupt halt when the granddaughter of his friend is abducted by a Mexican sex-trafficking gang and the ageing action man gets his revenge.
Though this film is an improvement on some of the sequels (as well as the sequels to Taken), it really is night and day when compared to the original Rambo film, First Blood.
Stallone is getting far too old for this now, and it shows, but his performance is just fine when compared to some other members of the cast, particularly Fenessa Pinella.
The last half hour probably contains the most violence you're likely to see in a 2019 production. It isn't a terrible film, but it isn't a sequel to First Blood either and it's perfectly understandable why the creator of the character, David Morrell, stated that he was embarrassed by the direction it was taken in.
4/10