Raging Bull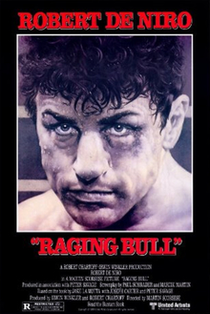 RAGING BULL (18)
D: Martin Scorsese
United Artists (Robert Chartoff & Irwin Winkler)
W: Paul Schrader & Mardik Martin [based on the book by Jake LaMotta, Joseph Carter & Peter Savage]
DP: Michael Chapman
Ed: Thelma Schoonmaker
Robert DeNiro (Jake LaMotta), Joe Pesci (Joey LaMotta), Cathy Moriarty (Vickie LaMotta), Frank Vincent (Salvy), Nicholas Colasanto (Tommy Como), Theresa Saldana (Lenore), Frank Adonis (Patsy), Mario Gallo (Mario)
Without a doubt, Raging Bull is the best boxing movie ever made as well as quite possibly being the finest sports biopic in cinema history.
Robert DeNiro delivers his career-best performance as title contender Jake LaMotta, a brutal pugilist who was manipulated by the Mafia to throw his championship fight, causing his career to be brought to an abrupt end when he subsequently has his boxing licence stripped away by the official organisations.
Some scenes are a rather ugly watch, especially those uncovering the fighter's bullying family life, but it's such an amazing performance from DeNiro, who still makes you root for such an unsympathetic, unlikeable character.
Joe Pesci and Cathy Moriarty also deserve kudos for their performances for their roles as LaMotta's brother and wife.
Some might say this is Martin Scorsese's best film as director. It would be hard to disagree. Voted best film of the 1980's by the American Film Institute, an accolade richly deserved.
10/10