Rachel Getting Married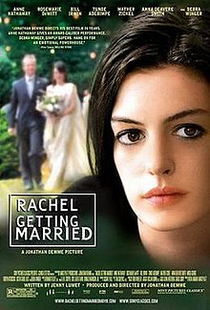 RACHEL GETTING MARRIED (15)
Sony Pictures Classics (Jonathan Demme, Neda Armian & Marc E. Platt)
Mus: Zafer Tawil & Donald Harrison, Jr.
Anne Hathaway (Kym Buchman), Rosemarie DeWitt(Rachel Buchman), Bill Irwin (Paul Buchman), Tunde Adebimpe (Sidney Williams), Debra Winger (Abby Buchman)
Anne Hathaway plays Kym, a reforming drug addict who leaves rehab for a few days to return to her family home to celebrate her sister Rachel's wedding. 
Skeletons from the past rear their ugly heads and creates a rift amongst the dysfunctional family as the try to rein in the arguments with the impending big day approaching.
Filmed with a hand-held photography style which captures the film with home video realism and the performances and screenplay accurately portrays a family desperately trying to bury it's head beneath the sand for the greater good.
The low-key style won't suit everyone's viewing tastes, but it's certainly worth watching to experience a good spot of acting, especially Anne Hathaway and Rosemarie DeWitt as Rachel.
6/10