Rabbit Hole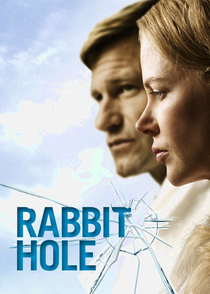 RABBIT HOLE (15)
Lionsgate/Blossom/Oddlot (Nicole Kidman, Leslie Urdang, Gigi Pritzker, Per Saari & Dean Vanech)
W: David Lindsay-Abaire [based on his play]
Nicole Kidman (Becca Corbett), Aaron Eckhart (Howie Corbett), Dianne Wiest (Nat), Miles Teller (Jason), Tammy Blanchard (Izzy), Sandra Oh (Gabby)
Rabbit Hole is a small independent film with some big performances, especially from the two leads Aaron Eckhart and Nicole Kidman.
They play a married couple who are struggling to cope with grief following the accidental death of their three-year-old son. Eckhart deals with the loss by attending counselling sessions and spending more and more time with a female friend, while Kidman remains stone-faced, focusing on her passion for gardening and secretly meeting with the teenager who was responsible for her child's death.
The material is best suited to the stage, from which it was adapted, but the performances here make it a very worthwhile movie. There's a few moments which are quite uncomfortable to watch, but the story never quite steps into controversial territory.
7/10