Quest for Fire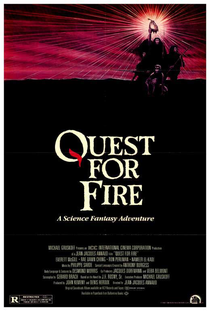 QUEST FOR FIRE (LA GUERRE DE FEU) (PG)
ICC/Cine Trail/Belstar (Michael Gruskoff)
Canada/France 1981 (released 1982)
W: Gérard Brach [based on the novel "La Guerrero Du Feu" by J. H. Rosny]
Everett McGill (Naoh), Ron Perlman (Amoukar), Rae Dawn Chong (Ika), Nameer El-Kadi (Gaw)
Well made and scientifically accurate, but also an incredibly boring adventure about a group of Neanderthals searching for a source for fire following an attack from a rival tribe.
There's absolutely no dialogue in this Stone Age soap opera, presented as a "Walking With Cavemen" style documentary.
The makeup and costume design are both impressive and convincing, but the film as a whole amounts to little more than a series of National Geographic photographs.
6/10