A Quiet Place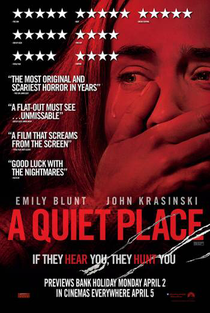 A QUIET PLACE (15)
D: John Krasinski
Paramount/Platinum Dunes (Michael Bay, Andrew Form & Bradley Fuller)
US 2018
90 mins
Horror/Drama
W: John Krasinski, Scott Beck & Bryan Woods
DP: Charlotte Bruus Christensen
Ed: Christopher Tellefsen
Mus: Marco Beltrami
Emily Blunt (Evelyn Abbott), John Krasinski (Lee Abbott), Millicent Simmonds (Regan Abbott), Noah Jupe (Marcus Abbott), Cade Woodward (Beau Abbott)
A Quiet Place is best enjoyed in a quiet place, as the atmospheric tension is built up through the film's use of sound (or lack of).
The story places right in the middle of the situation, set in a post apocalyptic near future where a species of creature has hunted mankind into virtual extinction. The only surviving family are the Abbotts, who have adapted to this reality by communicating in sign language and undertaking daily chores in silence... but they must prepare for a big test when it emerges that Evelyn is pregnant and the due date is fast approaching.
This is very much a drama film, although it does have massive horror quotient on the plot device, and John Krasinski does an excellent job directing, as well as co-writing and starring in this movie, as well as Emily Blunt and the other co-stars who fully achieve telling the story without the usual conventional dialogue.
The CGI monsters aren't as polished as they could be, but they still pose a threatening and frightening menace even though the film doesn't resort to jump scares to achieve terror.
Perhaps the biggest surprise of all is that the movie was produced by Michael Bay. Thankfully, there are no ear-splitting pyrotechnic displays to suggest this during the running time.
8/10