The Professionals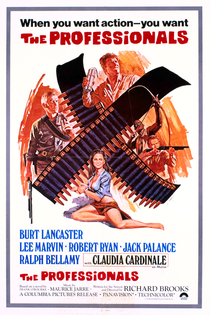 THE PROFESSIONALS (PG)
D: Richard Brooks
Columbia/Pax (Richard Brooks)
W: Richard Brooks [based on the novel "A Mule For The Marquesa" by Frank O'Rourke]
DP: Conrad Hall
Burt Lancaster (Bill Dolworth), Lee Marvin (Henry 'Rico' Fardan), Robert Ryan (Hans Ehrengard), Jack Palance (Jesus Raza), Ralph Bellamy (Joe Grant), Claudia Cardinale (Maria Grant), Woody Strode (Jake Sharp)
The Wild Bunch before the The Wild Bunch (qv), Richard Brooks' classic Western may not be as brutally violent as Sam Peckinpah's seminal movie, but it does have quality where it counts, especially in the powerhouse performances and handsome cinematography.
The story concerns a group of vigilante cowboys who are hired by a ranch owner to rescue his wife, kidnapped by a Mexican revolutionary.
For fans of the genre, this is up there with the best, but, like the genre itself, has dated a little badly since its original release, but it's clear to see that this film had a huge influential impact on other films and TV series'.
7/10