The Prince of Tides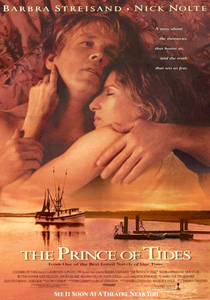 THE PRINCE OF TIDES (15)
Columbia/Barwood/Longfellow (Barbra Streisand & Andrew Karsch)
W: Pat Conroy & Becky Johnston [based on the novel by Pat Conroy]
Nick Nolte (Tom Wingo), Barbra Streisand (Dr. Susan Lowenstein), Blythe Danner (Sallie Wingo), Kate Nelligan (Lila Wingo-Newbury), Jeroen Krabbe (Herbert Woodruff), Melinda Dillon (Savannah Wingo), George Carlin (Eddie Detreville), Jason Gould (Bernard Woodruff), Brad Sullivan (Henry Wingo)
A moving and incredibly well-acted drama which felt in desperate need of a different director.
Nick Nolte gives one of his best ever screen performances as a retired American football player who becomes romantically involved with a psychiatrist helping him through a family tragedy.
Nolte, Kate Nelligan and Blythe Danner are all very good, but the weak link is most certainly Barbra Streisand, not particularly convincing in the female lead, but especially with her self-indulgent direction, focusing more on her appearance and perfectly manicured fingernails rather than the drama in the story. There is an exception to this during the film's flashback scenes, which are particularly well handled and photographed.
7/10