The Postman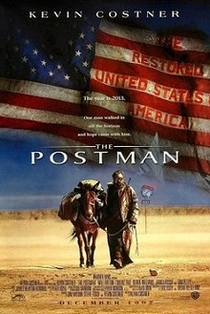 THE POSTMAN (15)
Warner Bros./Tig (Jim Wilson, Steve Tisch & Kevin Costner)
Science Fiction/Adventure
W: Eric Roth & Brian Helgeland [based on the novel by David Brin]
Kevin Costner (The Postman), Will Patton (General Bethlehem), Larenz Tate (Ford Lincoln Mercury), Olivia Williams (Abby), James Russo (Captain Idaho), Tom Petty (Bridge City Mayor)
Considered the film which killed Kevin Costner's career, the star whose name alone could practically guarantee success stars and directs this post-apocalyptic mess, in which he plays a drifter who wanders the wastelands and discovers a postman's uniform and mail sack and decides to don it and deliver hope to people.
The message, though well-intentioned, comes across as ridiculous and cheesy, mostly due to the terrible screenplay full of asinine dialogue. The performances don't do the film any favours either.
A box office and critical bomb, Costner's career never really recovered from the bad reputation of this, one of the biggest financial turkeys in cinema history.
2/10