The Post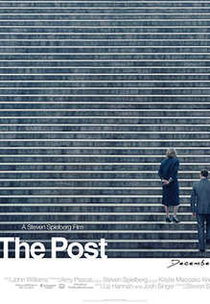 THE POST (12)
D: Steven Spielberg
Dreamworks/20th Century Fox/Amblin/Participant Media (Steven Spielberg, Amy Pascal & Kristie Macosco Krieger)
US 2017
116 mins 
Political/Drama
W: Josh Singer & Liz Hannah
DP: Janusz Kaminsky
Ed: Michael Kahn & Sarah Broshar
Mus: John Williams
PD: Rick Carter
Tom Hanks (Ben Bradlee), Meryl Streep (Kay Graham), Sara Paulson (Antoinette Bradlee), Bob Odenkirk (Ben Bagdikian), Tracy Letts (Fritz Leebe), Bradley Whitford (Arthur Parsons), Bruce Greenwood (Robert McNamara), Carrie Coon (Meg Greenfield)
Presidents lie. That's pretty much the message of Steven Spielberg's political drama. I wonder why that would be of such topical interest in 2017? 
The story almost serves as a companion piece to the 1976 film All The President's Men, set at the offices of the Washington Post, following two journalists as they delve deeper into the Watergate scandal. The Post is more about freedom of speech and freedom of press, when it emerges that government secrets about America's involvement in the Vietnam War are leaked and a power play is put into effect between the newspaper and the US Supreme Court over whether the information can become public knowledge. 
Simultaneously, the film serves as a parable for feminist empowerment, as newspaper owner Kay Graham (Meryl Streep) initially finds herself silenced by the men who surround her to eventually voice her own opinions come the end of the movie.
Aside from a few moments, the film is quite dull, labouring from plodding exposition to plodding exposition, without telling too much about what the government secrets are. 
The period detail, cinematography and music all capture the mid 1970's well, the performances are good and the script does have some witty one-liners, but it does hammer home the point a little too obviously that Hollywood aren't keen on the current presidential administration, as though we weren't aware of it already.
If you have interest in US politics, you're highly likely to enjoy it, but it's no All The President's Men.
6/10