The Poseidon Adventure/Poseidon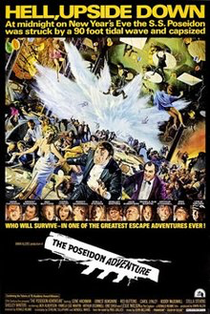 THE POSEIDON ADVENTURE (PG)
20th Century Fox (Irwin Allen)
W: Stirling Silliphant & Wendell Mayes [based on the novel by Paul Gallico]
PD: William Creber
Gene Hackman (Rev. Frank Scott), Ernest Borgnine (Mike Rogo), Red Buttons (James Martin), Shelley Winters (Belle Rosen), Carol Lynley (Nonnie Parry), Pamela Sue Martin (Susan Shelby), Roddy McDowall (Acres), Eric Shea (Robin Shelby), Jack Albertson (Manny Rosen), Stella Stevens (Linda Rogo), Leslie Nielsen (Capt. Harrison)
A luxury cruise ship is capsized by a tidal storm and a handful of survivors must traverse into the belly of the upturned vessel in order to escape.
The Poseidon Adventure is amongst the best of the disaster films which flooded the early-to-mid 1970's. A great deal of time during the first act is dedicated to the introduction of the characters before the catastrophe strikes, but once it does, the series of set pieces which pick them off one-by-one are incredibly well executed and visualised, with convincing special effects for the most part (some of the models are less so convincing, but you can forgive them considering the age of the film). Above all else, it's the performances of the talented cast which allow the audience to engage in their journey for survival.
A poor sequel (Beyond The Poseidon Adventure) and remake (Poseidon) followed.
8/10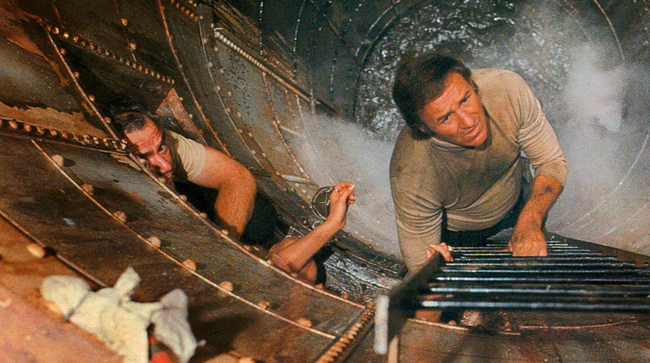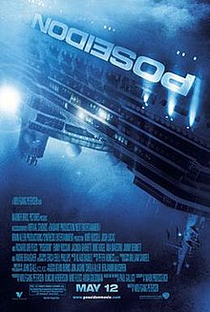 POSEIDON (15)
Warner Bros./Virtual (Wolfgang Petersen, Duncan Henderson, Mike Fleiss & Akiva Goldsman)
W: Mark Protosevich [based on the novel "The Poseidon Adventure" by Paul Gallico]
Kurt Russell (Robert Ramsey), Richard Dreyfuss (Richard Nelson), Josh Lucas (Dylan Johns), Emmy Rossum (Jennifer Ramsey), Jacinda Barrett (Maggie James), Mike Vogel (Christian Sanders), Mia Maestro (Elena Morales)
Inferior remake of the 1972 film (The Poseidon Adventure) with more focus on CGI rather than practical visual effects and shortcomings in the screenplay prevent any emotional connection to the characters making it difficult for the audience to engage with them and wish them success as they fight for survival in a stricken luxury liner which has turned upside down following a clash with a tidal wave.
Watch the original instead. The model effects may have dated over time, but it makes up for it with emphasis on characters and, more importantly, adventure.
4/10