The Philadelphia Story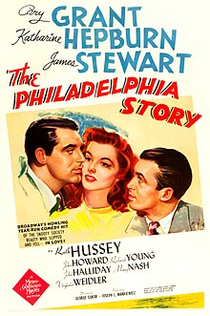 THE PHILADELPHIA STORY (U)
D: George Cukor
MGM (Joseph L. Mankiewicz)
W: Donald Ogden Stewart [based on the play by Philip Barry]
Mus: Franz Waxman
Katharine Hepburn (Tracy Lord), Cary Grant (C.K. Haven), James Stewart(Macauley Connor), Ruth Hussey(Elizabeth Imrie), Roland Young (Uncle Willie), John Halliday (Seth Lord), Mary Nash (Margaret Lord), Virginia Weidler (Dinah Lord), John Howard (George Kittredge), Henry Daniell (Sidney Kidd)
Classic screwball comedy about high society and the possible birth of paparazzi-style journalism.
Katherine Hepburn stars as a stuffy heiress who has second thoughts as her second wedding approaches and rekindles a relationship with her first husband.
Much of the film is quite dated now, from its style of filmmaking to the kind of people it depicts, as well as the sexual politics of the time, where men were golf-playing, top hat and suit-wearing gents and a woman's place was in the kitchen or taking care of the children. Despite this, it's still amongst the best films of its time, mostly due to its snappy dialogue and highly-strung performances.
8/10