The Perfect Storm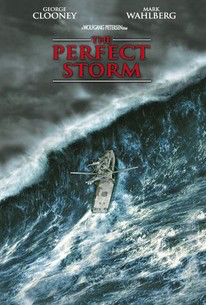 THE PERFECT STORM (15)
Warner Bros./Baltimore/Spring Creek/Radiant (Paula Weinstein, Wolfgang Petersen & Gail Katz)
W: Bill Wittliff [based on the book by Sebastian Junger]
Ed: Richard Francis-Bruce
George Clooney (Frank William Tyne, Jr.), Mark Wahlberg (Bobby Shatford), John C. Reilly (Dale Murphy), Diane Lane (Christina Cotter), William Fichtner (David Sullivan), Mary Elizabeth Mastrantonio (Linda Greenlaw), Michael Ironside (Bob Brown)
Despite some strong visuals, The Perfect Storm is a rather boring film which could easily have been trimmed to 90 minutes or less.
The crew of a small commercial fishing boat, each with their own personal life crisis, are caught unaware by a series of violent storms in the North Atlantic Ocean.
The visual effects are particularly impressive, especially when the small boat attempts to climb a giant wave, but the story is anchored down with the personal dramas which are just left in limbo at the film's climax.
6/10