The People vs Larry Flynt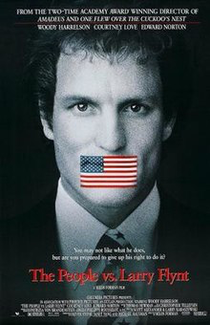 THE PEOPLE VS LARRY FLYNT (18)
D: Milos Forman
Columbia Tristar/Ixtlan/Phoenix (Oliver Stone, Janet Yang & Michael Hausman)
W: Scott Alexander & Larry Karazewski
Ed: Christopher Tellefsen
Woody Harrelson (Larry Flynt), Courtney Love (Althea Leasure), Edward Norton (Alan Isaacman), James Cromwell (Charles Keating), Crispin Glover (Arlo)
A controversial biopic of the outspokenly outrageous publisher of the pornographic magazine Hustler, who became a campaigner for the right to exercise free speech during the late 70's to mid-80's.
Woody Harrelson is a great actor, often underrated, and he really sinks his teeth into this performance and has a lot of fun with the character, deservingly winning an Oscar nomination for his performance, but the real revelation here is Courtney Love, with an outstanding performance as Flynt's drug-addicted wife.
A great movie from the 1990's which is just as relevance today, especially in its regards to the importance of free speech. 
8/10