The Parent Trap (1961/1998)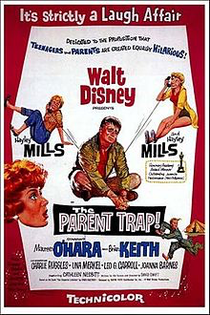 THE PARENT TRAP (PG)
W: David Swift [based on the novel "Das Doppelte Lottchen" by Erich Kästner]
Ed: Philip W. Anderson
Hayley Mills (Sharon McKendrick / Susan Evers), Maureen O'Hara (Maggie McKendrick), Brian Keith (Mitch Evers), Charles Ruggles (Charles McKendrick), Una Merkel (Verbena), Leo G. Carroll (Rev. Mosby), Joanna Barnes (Vicky Robinson), Cathleen Nesbitt (Louise McKendrick), Ruth McDevitt (Miss Abbey Inch)
Using a bit of movie magic, clever photography and seamless editing techniques the audience gets two Hayley Mills performances for the price of one.
The juvenile actress plays both roles of a pair of twins, separated following their parents split, but reunited at a summer camp. They then switch places in a ploy to reunite their family.
It's typical of the clean family fun you'd expect from Disney during the 1960's, and though certain elements, like the fashion of the time, are now quite dated, the performance of its lead star maintain its watchability, especially for a rainy Bank Holiday afternoon.
6/10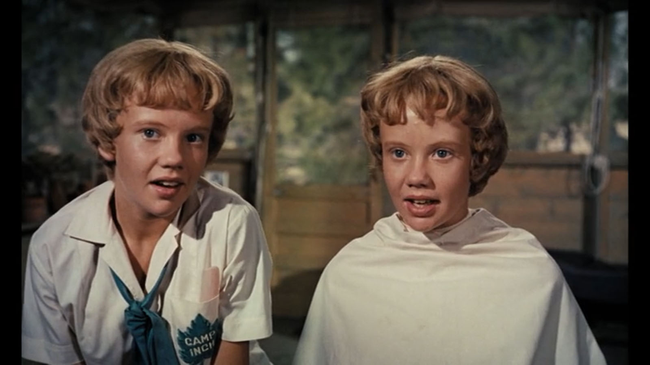 THE PARENT TRAP (PG)
W: David Swift, Nancy Meyers & Charles Shyer [based on the novel "Das Doppelte Lottchen" by Erich Kästner]
Lindsay Lohan (Annie James / Hallie Parker), Dennis Quaid (Nick Parker), Natasha Richardson (Liz James), Elaine Hendrix (Meredith Blake), Lisa Ann Walter (Chessy), Simon Kunz (Martin), Polly Holliday (Marva Kulp), Maggie Wheeler (Marva Kulp, Jr.)
Remake of the above with Lindsay Lohan stepping into the shoes of the dual role played originally by Hayley Mills.
The fashion, jokes, decor and even the characters' names get a rejig for a 1990's audience, yet it still feels like a "been there, done that" venture. Those who haven't seen the original (or simply don't remember it) will enjoy it more.
It's a fairly enjoyable remake, but the 1961 version seems to encapsulate more of the 'Disney magic'.
6/10