Pygmalion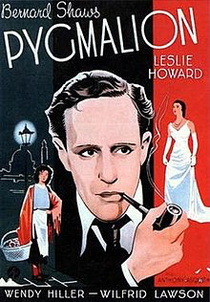 PYGMALION (U)
D: Anthony Asquith
General Film Distributors (Gabriel Pascal)
UK 1938
96 mins
Comedy/Romance
W: George Bernard Shaw, W.P. Lipscomb, Cecil Lewis & Ian Dalrymple [based on the play by George Bernard Shaw]
DP: Harry Stradling
Ed: David Lean
Mus: Arthur Honegger
Leslie Howard (Prof. Henry Higgins), Wendy Hiller (Eliza Doolittle), Wilfred Lawson (Arthur Doolittle), Scott Sunderland (Col. Pickering), Marie Lohr (Mrs. Higgins), David Tree (Freddy Eynsford-Hill)
Slightly old-fashioned with its execution, but this first film adaptation of George Bernard Shaw's sprightly comedy of manners is blessed with some fine performances and brilliantly witty dialogue which make it timeless in its own right.
Professor of dialect Henry Higgins accepts a wager to transform common as muck flower seller Eliza Doolittle into a lady of high-standing by correcting her grammar and diction, and though it appears he has bitten off more than he can chew with the task at hand, a relationship blossoms between the two unlikely companions.
The story was further immortalised in the musical remake, My Fair Lady, as well as a very loose teenage version of a similar story (She's All That). Some may argue that this is the best filmed version of George Bernard Shaw's play, though My Fair Lady is probably the more memorable.
9/10