Pumpkinhead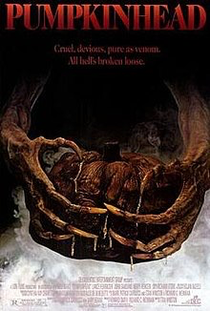 PUMPKINHEAD (aka VENGEANCE THE DEMON) (18)
United Artists (Howard Smith & Richard C. Weinman)
W: Mark Patrick Carducci & Gary Gerani
Lance Henriksen (Ed Harley), Jeff East (Chris), John D'Aquino (Joel), Kimberly Ross (Kim), Kerry Remsen (Maggie)
Visual effects designer Stan Winston, better known for his creations for The Terminator & Predator, turns his focus to directing for this revenge tale creature feature.
Following the death of his son, a farmer summons a demon to kill those responsible. An act which has a greater price than he bargained for.
The first-time director creates an effectively chilling atmosphere, whilst the creature design and visual effects are of the standard you'd expect from Winston himself.
A very underrated piece of horror cinema.
6/10