Public Enemies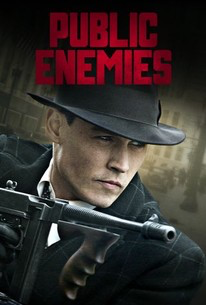 PUBLIC ENEMIES (15)
Universal/Relativity Media/Forward Pass (Michael Mann & Kevin Misher)
W: Michael Mann, Ronan Bennett & Ann Biderman [based on the book "Public Enemies: America's Greatest Crime Wave & The Birth Of The FBI, 1933-34" by Bryan Burrough]
Ed: Paul Rubell & Jeffrey Ford
Johnny Depp (John Dillinger), Christian Bale (Melvin Purvis), Marion Cotillard (Billie Frechette), Billy Crudup (J. Edgar Hoover), Stephen Dorff (Homer Van Meter), Stephen Lang (Charles Winstead)
Biographical crime drama about John Dillinger and the authorities who tried to catch him.
An incredibly slow-build up and some inaudible dialogue mar what could have potentially been a fantastic gangster movie.     
The performances are very good, particularly Johnny Depp and Marion Cotillard, while the period detail, photography and music score are also excellent.
The slow-boiling narrative might make a few minds switch off, but those who stick with it are rewarded with an intelligent cops and robbers thriller with moments of genuine brilliance and inventive style.
It trails in the wake of more seminal classics like The Godfather, but to better Coppola's classic would be a huge ask.
6/10