Psycho (film series)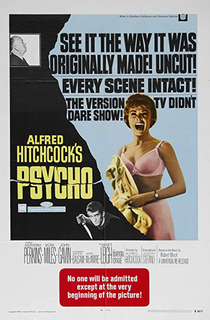 PSYCHO (15)
D: Alfred Hitchcock 
Universal/Paramount (Alfred Hitchcock)
W: Joseph Stefano [based on the novel by Robert Bloch]
DP: John L. Russell
Mus: Bernard Herrmann
PD: Robert Clatworthy & Joseph Hurley
Anthony Perkins (Norman Bates), Janet Leigh (Marion Crane), Vera Miles (Lila Crane), John Gavin (Sam Loomis), Martin Balsam (Milton Arbogast)
Arguably Alfred Hitchcock's most iconic film is amongst the director's best works and a solid example of why he was dubbed the "master of suspense".
Filmed on a modest budget and using a small TV crew, Hitchcock creates an atmosphere of brooding tension and dread, mostly thanks to the creepy performance of lead actor Anthony Perkins as the infamous motel owner Norman Bates.
The story follows Marion Crane, a secretary who steals $40,000 from her company's client and goes on the run, only for heavy rain to force her to take refuge at a remote motel owned by a timid taxidermist who lives in his overpowering mother's shadow.
In the film's pre-release trailer, Hitchcock quite unashamedly gives away much of the major plot points of the film, yet much will still remain a surprise - unless, of course, it's already been ruined for you.
Considered incredibly violent at the time of it's release, the scenes of horror might feel incredibly tame by modern standards, but it cannot be denied that this film changed cinema and the way people watch films, as well as introducing cinema audiences to a brand new subgenre of "slasher" horror films.
10/10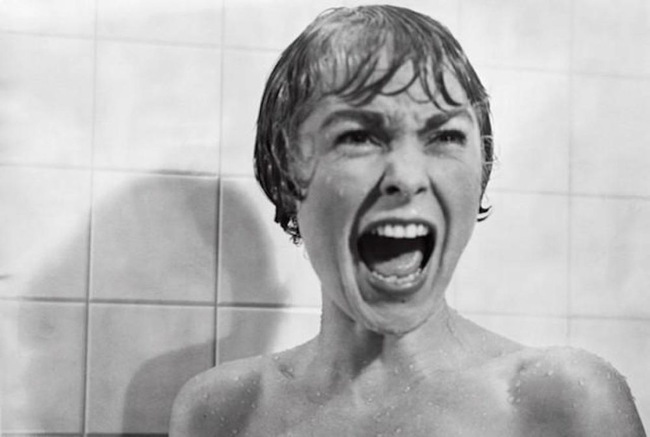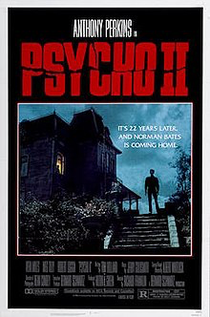 PSYCHO II (18)
D: Richard Franklin
Universal (Hilton A. Green & Bernard Schwartz)
US 1983
113 mins
Horror
W: Tom Holland [based on characters created by Robert Bloch]
DP: Dean Cundey
Ed: Andrew London
Mus: Jerry Goldsmith
Anthony Perkins (Norman Bates), Meg Tilly (Mary Samuels), Vera Miles (Lila Loomis), Robert Loggia (Dr. Bill Raymond), Dennis Franz (Warren Twomey), Hugh Gillen (Sheriff John Hunt)
It was never going to be an easy task following up with a sequel to Alfred Hitchcock's classic horror movie, but Psycho II does not do a bad job at all, despite being nowhere near the seminal 1960 film. Robert Bloch did, in fact, write a follow up to the original novel, but this film is not based upon that book.
Anthony Perkins reprises his role as Norman Bates, released from a mental institution after 22 years, much to the annoyance of Lila Loomis, the sister of the first film's main victim, Marion Crane. Returning to the ominous family house overlooking his namesake hotel, Bates attempts to move on with his life and away from that which haunts him, in doing so, he allows a young woman to move into his home, only for "mother" to begin another killing spree...
Much of the plot is predictable to anybody who has ever seen a horror movie, or indeed the original film, but there's still some wiggle room in the plot for a couple of interesting twists and turns.
Perkins slips back into his most famous character like it's a glove and Meg Tilly provides an excellent supporting character with her breakthrough performance.
Not as good as the original film by a long shot, but miles ahead of the pathetic remake.
6/10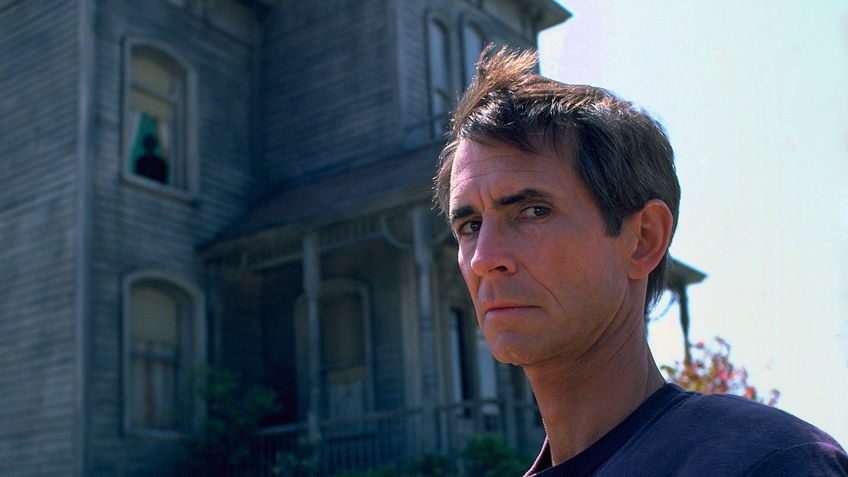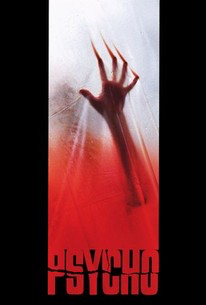 PSYCHO (15)
Universal/Imagine (Brian Grazer & Gus Van Sant)
W: Joseph Stefano [based on the novel by Robert Bloch]
Mus: Bernard Herrmann & Danny Elfman
Vince Vaughn (Norman Bates), Anne Heche (Marion Crane), Julianne Moore (Lila Crane), Viggo Mortensen (Sam Loomis), William H. Macy (Milton Arbogast)
One of Hollywood's biggest mistakes. This shot-by-shot remake of the Hitchcock classic uses the same script as the 1960 original, only changing the amount of currency and wedging in a laughably unnecessary masturbation scene.
The performances are all inferior and the film feels more like an insult rather than the homage director Gus Van Sant intended. Simply put, this is a film that has no right to exist.
1/10