Private Benjamin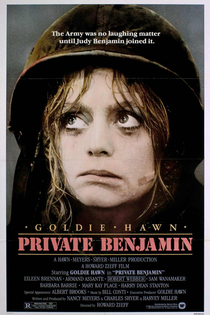 PRIVATE BENJAMIN (PG)
Warner Bros. (Nancy Meyers, Charles Shyer & Harvey Miller)
W: Nancy Meyers, Charles Shyer & Harvey Miller
Goldie Hawn (Judy Benjamin), Eileen Brennan (Capt. Doreen Lewis), Armand Assante (Henri Tremont), Robert Webber (Col. Clay Thornbush), Sam Wanamaker (Teddy Benjamin), Barbara Barrie (Harriet Benjamin), Harry Dean Stanton (Sgt. Jim Ballard)
Amongst Goldie Hawn's finest performances, she stars as a well-to-do widow who, during a crossroads in her life, enlists in the army, where a superior officer makes sexual advances towards her.
The plot feels like something straight out of a sitcom, though the standard of humour doesn't maintain throughout.
Goldie Hawn's performance is very good, but she's constantly upstaged by drill-instructor-from-hell Eileen Brennan.
6/10