Pretty in Pink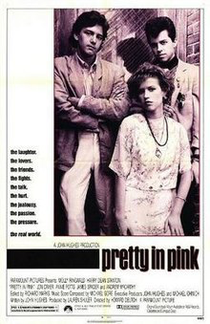 PRETTY IN PINK (15)
Paramount (Lauren Shuler-Donner)
Molly Ringwald (Andie Walsh), Harry Dean Stanton (Jack Walsh), Jon Cryer (Duckie), Annie Potts (Iona), Andrew McCarthy (Blane), James Spader (Steff)
Writer John Hughes passes the director's reins to Howard Deutsch for this iconic 1980's teen comedy, starring Molly Ringwald as a girl from the wrong side of the tracks who tries to start afresh at a new high school.
The soundtrack of songs is pretty great, but personally, this is one of my least favourite John Hughes-penned movies, nowhere near the standard he laid down with the previous year's The Breakfast Club (qv). 
It seems to put across the completely wrong message to a young, impressionable audience and Molly Ringwald's character comes across as rather prissy, dismissive and conceited. In my opinion, she friend-zones the guy who is right for her and ends up with someone completely unsuitable. Such is life, some might say.
The majority of the female viewers will disagree. It's more their sort of film (sorry to generalise, but I'm sure it's true).
6/10