Predator (film series)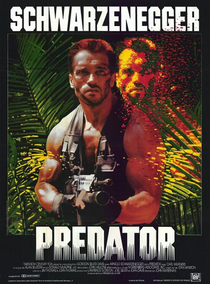 PREDATOR (18)
20th Century Fox (Lawrence Gordon, Joel Silver & John Davis)
Action/Adventure/Science Fiction
W: Jim Thomas & John Thomas
Ed: John F. Link & Mark Helfrich
Arnold Schwarzenegger (Maj. Alan 'Dutch' Schaefer), Carl Weathers (Dillon), Bill Duke (Mac), Elpidia Carrillo (Anna), Jesse Ventura (Sgt. Blain), Sonny Landham (Billy), Richard Chavez (Poncho), Shane Black (Hawkins), Kevin Peter Hall (The Predator)
Considered amongst Arnold Schwarzenegger's best work, this testosterone-fuelled, gung-ho action flick lends a science fiction twist to a plot which has been adapted in various forms since 1932's The Most Dangerous Man.
A team of commandos are sent by the CIA to a mission in the South American jungle. They soon discover that they were double-crossed, sent into the wilderness for an ulterior motive, and worse still, an alien hunter with an invisibility cloaking device and an arsenal of weapons is picking them off one by one.
Considering it's an action film, the strengths lie in its set pieces rather than performances or dialogue, and Predator is a perfect example of a film saved by its post production work, notably the visual effects of Stan Winston, who designed the alien creature after the original plans of a special effects company made the alien hunter look more like a giant chicken (see the "making of" documentary on the DVD extras).
Winston's work has stood the test of time, as has the film itself and is a surefire contender for one of the best action moves ever made.
8/10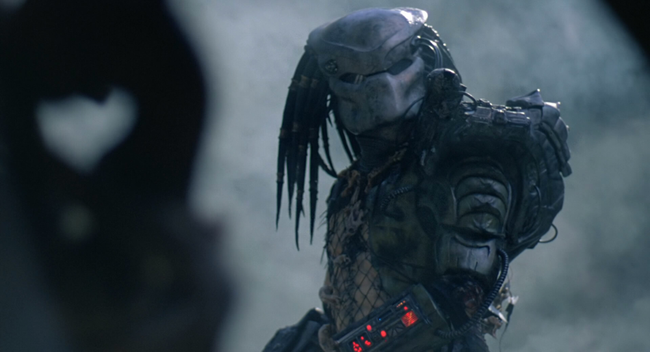 PREDATOR 2 (18)
20th Century Fox (Lawrence Gordon, Joel Silver & John Davis)
W: Jim Thomas & John Thomas
Danny Glover (Lt. Mike Harrigan), Gary Busey (Agt. Peter Keyes), Ruben Blades (Det. Danny Archuleta), Maria Conchita Alonso (Det. Leona Cantrell), Bill Paxton (Det. Jerry Lambert), Kevin Peter Hall (The Predator)
Switching the action from a remote South American jungle to the gritty Los Angeles streets affects the atmosphere of this sequel, making it feel clichéd and formulaic.
Set in 1997 (so therefore already dated), an alien hunter, armed with a new arsenal of deadly weapon, picks off rival members of drug gangs as well as members of the LAPD. Danny Glover goes it alone to beat the creature, setting up a rather smart ending which suggests that the alien species have been battling against mankind for centuries.
The film is entertaining enough for its duration, but lacks the creative flair and pure testosterone of the original.
6/10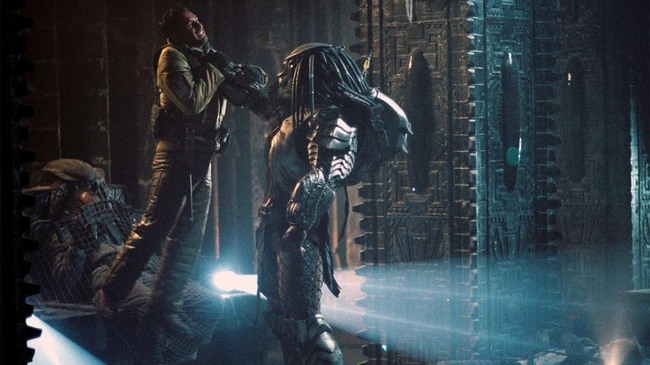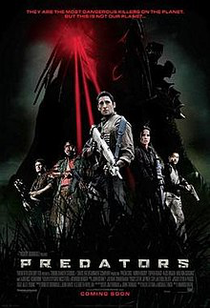 PREDATORS (18)
20th Century Fox/Dune (Robert Rodriguez, John Davis & Elizabeth Avellan)
W: Alex Litvak & Michael Finch
Adrien Brody (Royce), Topher Grace (Edwin), Alice Braga (Isabelle), Walton Goggins (Stans), Laurence Fishburne (Noland), Danny Trejo (Cuchillo)
Brainless sequel for the popcorn market. True, the first two films were all-action, gung-ho science fiction fare, but at least they were credible.
Ignoring events from the awful Alien vs Predator spinoffs, this sees a group of criminals abducted and left stranded on an alien planet, which a group of alien creatures use as a hunting reserve.
The key issue is that, in previous films, the predator was a lone hunter. Quantity does not equal quality.
Despite the efforts of director Nimrod Antal to create atmosphere and tension, it just isn't possible to polish a turd and call it shiny.
A huge improvement on the AVP films, but that isn't a badge of honour.
5/10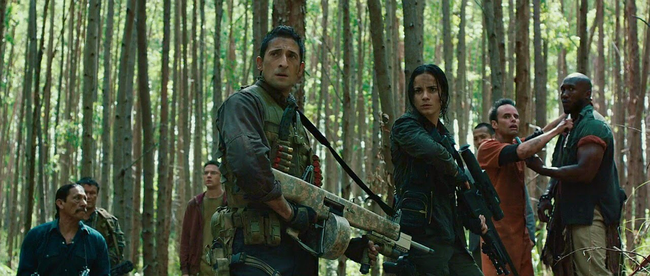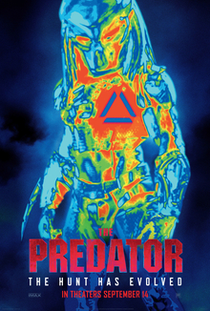 THE PREDATOR (15)
D: Shane Black
20th Century Fox (John Davis)
US 2018
107 mins
Action/Science Fiction
W: Shane Black & Fred Dekker [based on characters created by Jim Thomas & John Thomas]
DP: Larry Fong
Ed: Harry B. Miller III & Billy Weber
Mus: Henry Jackman
Boyd Holbrook (Quinn McKenna), Trevante Rhodes (Nebraska Williams), Jacob Tremblay (Rory McKenna), Olivia Munn (Dr. Casey Bracket), Sterling K. Brown (Will Traeger)
Shane Black, who was one of the cast members of the original 1987 movie, takes the directorial reins and shares a writing credit for this 2018 sequel/reboot, but if you're expecting this to tie in more with the testosterone filled Arnold Schwarzenegger film, prepare to be disappointed.
The original Predator isn't exactly blessed with a great screenplay or Oscar worthy acting, but the simple plot- pitting a small platoon of soldiers against an alien who kills for sport, it more than hits the spot for action, thrills and tension, it hits the spot. 
A 1990 sequel wasn't quite as good, but kept a similar premise as it switched from the South American jungle to the urban jungle of Los Angeles' gang wars.
The franchise went tits up from there, tying into Fox's Alien movies for two films before Predators attempted to return to the roots of the original film.
This 2018 reboot sees the alien hunters come to Earth to steal a child's autism.  Yes, you read that right.
It's never a good thing when a release date is postponed for hefty reshoots, but even the bare bones of the plot here are laughably bad. When this is paired with terrible dialogue, choppy editing, shoddy CGI and performances out of the Josh Duhamel school of acting, this was bound to be a terrible experience to witness at the cinema.
One to avoid for sure. It's one ugly motherf**ker.
1/10