Porky's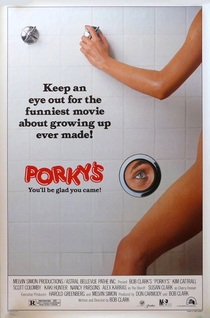 PORKY'S (18)
Melvin Simon/Astral Bellevue Pathé (Don Carmody & Bob Clark)
Canada/USA 1981 (released 1982)
Mus: Carl Zittrer & Paul Zaza
Dan Monahan (Edward 'Pee-Wee' Morris), Mark Herrier (Billy McCarty), Wyatt Knight (Tommy Turner), Roger Wilson (Mickey Jarvis), Kim Cattrall (Lynn Honeywell)
Canada's answer to National Lampoon's Animal House, this teenage sex comedy is as bad taste as they come, but did incredibly well at the box office, becoming one of the biggest films of 1982.
The simple story of a group of 1950's high school students trying to get into their local brothel is backed up with puerile humour and lewd jokes, and while it's not for everyone, is entertaining enough for those with juvenile sensibilities. 
A string of inferior sequels followed before the subgenre died off mid-eighties, only to be rejuvenated at the end of the 1990's with the American Pie films.
6/10