Popstar: Never Stop Never Stopping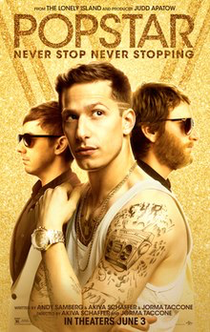 POPSTAR: NEVER STOP NEVER STOPPING (15)
D: Akiva Schaffer & Jorma Taccone
Universal/Perfect World/The Lonely Island (Judd Apatow, Rodney Rothman, Andy Samberg, Akiva Schaffer & Jorma Taccone)
US 2016
86 mins
Comedy 
W: Akiva Schaffer, Andy Samberg & Jorma Taccone
DP: Brandon Trost
Ed: Jamie Gross, Craig Alpert & Stacey Schroeder 
Mus: Matthew Compton
Andy Samberg (Conner "Conner4Real" Friel), Jorma Taccone (Owen "Kid Contact" Bouchard), Akiva Schaffer (Lawrence "Kid Brain" Dunn), Sarah Silverman (Paula Klein), Tim Meadows (Harry Duggins)
A This Is Spinal Tap mockumentary following the solo tour of a vacuous, egotistical and selfish pop star modelled very much on Justin Bieber.  Originally a member of a three-piece boyband, Conner4Real is promoting his self-penned second album which is tanking in the sales charts, despite all his efforts to make it a gargantuan success, including publicity stunts during his concerts which inevitably go wrong and proposing to his celebrity girlfriend on live TV.
More than being a parody of pop singers and their egos, it pokes fun at the whole media circus, with real life celebrities turning up with cameo appearances which mock themselves.
The songs are purposefully terrible, but the comedy in this film is hilariously funny. It's a surprise that the film itself was a flop at cinemas, especially since one of the producers was Judd Apatow, whose comedy stable has fired out several hits over the years.
6/10