Point Break (1991/2015)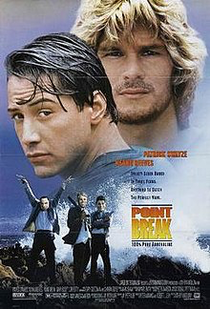 POINT BREAK (15)
20th Century Fox/Largo/Tapestry (Peter Abrams & Robert L. Levy)
W: Rick King & W. Peter Iliff
Ed: Howard Smith, Scott Conrad & Burt Lovitt
Patrick Swayze (Bodhi), Keanu Reeves (Johnny Utah), Gary Busey (Angelo Pappas), Lori Petty (Tyler Endicott), John C. McGinley (Ben Harp), James LeGros (Roach), John Philbin (Nathaniel), Lee Tergesen (Rosie)
A series of bank robberies by men in masks of former presidents is traced by undercover FBI agent, Johnny Utah (yes, that really is Keanu Reeves' character's name), to a group of Californian surfers, headed by golden-haired new-age hippy ringleader, Bodhi (yes, that really is Patrick Swayze's character's name).
Kathryn Bigelow's action thriller is above the usual standard for Hollywood action movies, but tends to glamorise the bad guys. The performances are also rather unconvincing, particularly Keanu Reeves, who is much better suited as a surfer dude rather than a suit & tie lawman. 
Criticisms are pointless with this film though, it proved very popular with audiences and is often dubbed a modern classic for the genre. 
A pathetic remake crawled out of Hollywood in 2015, but is not worth watching.
7/10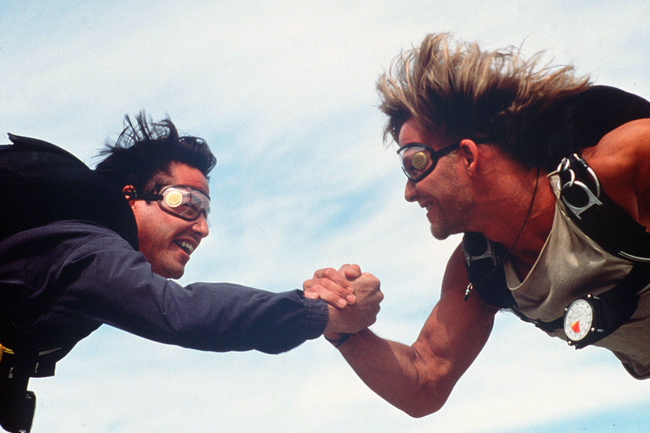 POINT BREAK (15)
Warner Bros/Alcon/DMG/Studio Babelsberg (Andrew A. Kosove, Broderick Johnson, John Baldecci, David Valdes, Christopher Taylor & Kurt Wimmer)
W: Kurt Wimmer [based on characters created by Rick King & W. Peter Iliff]
Ed: Thom Noble, Jerry Greenberg & John Duffy
Luke Bracey (Johnny Utah), Edgar Ramirez (Bodhi), Ray Winstone (Angelo Pappas), Delroy Lindo (Hall), Teresa Palmer (Samsara Deitz)
Unsolicited, unnecessary and completely inferior remake of the 1991 film, presumably aimed at enthusiasts of Go Pro photography, extreme sports, hipster culture and shit, lazy remakes.
The "ex-president's" bank robbery angle is even done away with here, probably because the intended audience wouldn't know what an ex-president is. Then again, this film didn't even find an audience, proving a very expensive flop and a lesson to leave things the fuck alone.
1/10