Places in the Heart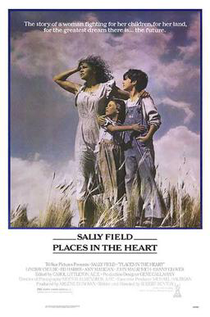 PLACES IN THE HEART (PG)
D: Robert Benton
Tristar (Arlene Donovan)
US 1984
111 mins
Drama
W: Robert Benton
DP: Nestor Almendros
Ed: Carol Littleton
Mus: John Kander
Sally Field (Edna Spalding), Lindsay Crouse (Margaret Lomax), Danny Glover (Moses), John Malkovich (Mr. Will), Ed Harris (Wayne Lomax), Amy Madigan (Viola Kelsey), Yankten Hatton (Frank Spalding), Gennie James (Possum Spalding)
Sally Field won her second Best Actress Oscar (following 1979's Norma Rae) for her performance as Edna Spalding in this poignant drama, based on writer-director Robert Benton's own experiences growing up in rural Texas.
Set during the Great Depression in a small Texas town, recently widowed Edna struggles with raising her young children as well as her home, a 40 acre farm, being repossessed by the bank over a debt she cannot pay off.
She takes in two travellers who offer her financial help, one a blind man who pays for room & board, and an African-American who convinces her to turn her land into a cotton field and put her crop to market.
The acting from the ensemble cast is perfect and every single performance is brilliantly acted.
As well as Field winning an Oscar, Malkovich and Crouse were also nominated, as well as the film, director and screenplay (which won).
The premise may not sound too enthralling or interesting, but there's not a single dull moment in this excellently crafted piece of work.
8/10